MD Nat'l Guard and DE Nat'l guard train for hurricane on Delmarva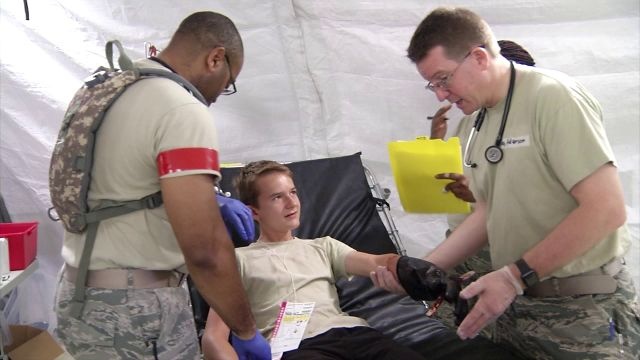 A weeks worth of training culminated Thursday as the Delaware National Guard and the Maryland National Guard carried out a joint exercise at the Delaware National Guard Bethany Beach Training Facility.
The training exercise, what would happen in the event that a category four hurricane hit Delmarva.
As part of the simulation soldiers set up a field hospital and practiced treating patients.
Officials say in the event of a major natural disaster hospitals and primary care centers may be shut down, so the field hospital must be ready to treat a variety of injuries.
"We have to be prepared to sort out, to triage those individuals, to treat those individuals, compassionately, efficiently and quickly to get them back to their families, get them back to their homes to do what they need to do," said Maj. Eric Anderson of the Maryland National Guard.
In a real life scenario the field hospital would be a hectic place, so the key to getting everyone help is knowing your role and listening to the chain of command.
"So our pad, we know what we need to know, we're running the names and numbers and locations of everybody while we're going around. Our ER knows that they're treating the individuals, triage is triaging, so as long as everybody is aware of what their job responsibilities are and they stay within those responsibilities, everything just kind of works like clockwork," said 2 Lt. Paul Wysocki of the Delaware National Guard.
Delaware has held this exercise twice, most recently in 2012.
This however was the first time Maryland was asked to join.
Officials say it was important to bring the two entities together because if a hurricane were to hit, it would most likely affect both states.
Now as for what civilians should do if a hurricane were to hit.
The first thing officials said to do have a plan and practice it with your family.
The plan should include an area that the family should meet up and also a plan for for evacuation if need be.
They also recommend having an emergency kit ready to go, complete with non-perishable food and first aid supplies.
As well as paying attention to what the government is telling you to do.
"If there is a hurricane that is coming to the area, just pay attention to the warnings that are going to be provided by the state and local governments. There's going to be information put out what they need to do," said Lt. Col. Mike Pollock.
Currently we are in the middle of hurricane season, however the National Hurricane Center is not forecasting any cyclones in the next few days.