Jul. 20 – Aging In Place Seminar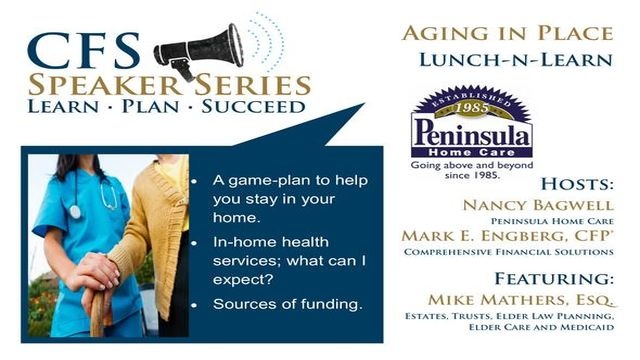 It's not something everyone stops to think about on a daily basis – Where will I be in my life when I am 70-80 or even 90. But planning ahead for future healthcare and financial needs as you age is necessary. You want to have the ability to live in your own home and community safely, independently and comfortably. There are steps you can take now to prepare for when that time comes.
Peninsula Home Care and Comprehensive Financial Solutions have partnered up to bring community members an aging in place seminar.
PHC, CFS and a local elder law attorney will present information on how to prepare a game-plan to help community members stay in their homes as they age. The will cover in-home health services, what to expect and present information on different sources of funding.
The event will be at Peninsula Home Care, 1001 Mt. Hermon Rd., Salisbury, MD 21804 on Thursday, July 21, 2016, Noon.
Lunch will be provided.
Register online at www.CFS4ME.com or RSVP by calling Peninsula Home Care at 410/543-7550 or email Kim Peters at petersk@peninsulahomecare.com