DSP say that they are looking for two men who made threatening statements in Selbyville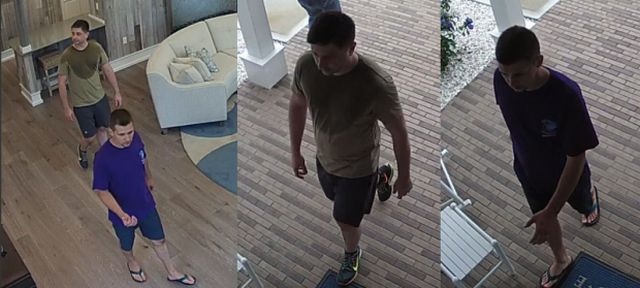 Delaware State Police say that they are asking for the public's help to try and identify two men that reportedly said threatening things in Selbyville, Sunday.
The incident, which reportedly took place before 3 p.m on Sunday, happened when two men went into the Americana Bayside Welcome Center on 31254 Americana Parkway, and reportedly made threatening statements to an employee at the desk, which made "The Band Perry," a band scheduled to perform at Freeman Stage later that evening, postpone their concert due to security and safety concerns.
Because the investigation is ongoing, police say specific details will not be released.
The suspects are pictured as men between the ages of 20 and 30. One is wearing a green t-shirt and shorts, and the other one is wearing a purple t-shirt and blue shorts.
If anyone has any information, they are asked to call Sergeant G. Windish at 302-856-5850 or Delaware Crime Stoppers at 1-800-TIP-3333.