Delmarva lawmakers and law enforcement react to Dallas shootings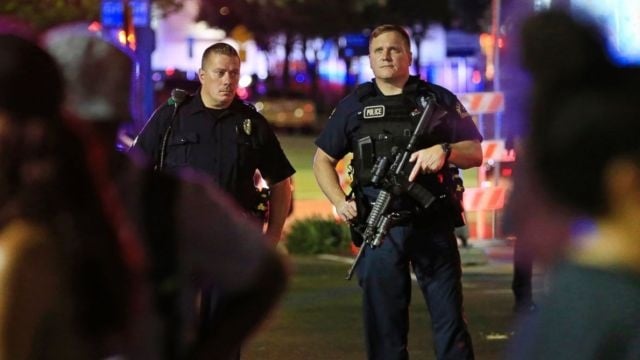 After the shooting of 14 people, that killed five police officers in Dallas, Texas on Thursday night, local lawmakers throughout Delmarva, have released statements on the events.
U.S. Senator Tim Kaine (Va.) released the following statement on Friday:
"The shootings in Dallas last night were a brazen and calculated attack on brave police officers doing their jobs to protect their fellow citizens. I join Americans across the country in condemning this horrific act of senseless violence, mourning the loss of five law enforcement heroes and praying for the recovery of those wounded."
U.S. Senator Mark R. Warner (Va.) posted the following statement on his Facebook page on Friday:
"I am horrified that police officers in Dallas were viciously targeted and killed in the line of duty. I join their families, the broader law enforcement community, and the City of Dallas in mourning the lives that were lost.
These police officers were working to protect our freedom of speech, and they paid the ultimate price trying to keep safe those who were assembling peaceably. There is no justification whatsoever for this heinous act of violence, and we must seek justice for them and their families.
Injustice cannot be rectified by another act of injustice. Grief affects all of us, and does not discriminate by color or profession. It is time for us come together as a nation so we can teach our children that they live in a world where hate is not the driving force for our actions, and where individuals are valued for their full worth and potential."
Colonel W. Steven Flaherty, Virginia State Police Superintendent released the following statement on Friday:
"The Dallas Police Department, Dallas Area Rapid Transit Police, and the families of the slain and injured officers are in the thoughts and prayers of every Virginia State Police member. There are truly no words to describe the pain we share with law enforcement worldwide in the wake of what took place overnight in downtown Dallas.
As Texas authorities continue their investigation into these tragic shootings, our Department personnel remain vigilant for their own safety, as well as securing the safety of all Virginians we have taken an oath to serve and protect."
Colonel Flaherty also apparently authorized the wearing of the mourning band on all VSP sworn personnel's badges starting Friday morning at 8:00 AM through midnight, Friday, July 15, 2016, in honor of the Dallas line of duty deaths.
On Friday, U.S. Senator Tom Carper (D-Del.) released the following statement regarding the deadly shootings that took place in Dallas.
"My heart breaks for Dallas. Five brave officers who served their community will not return home to their families today, and another seven officers are recovering from gunshot wounds after deranged criminals opened sniper fire during an otherwise peaceful protest. The events witnessed last night in Texas are disgusting acts of violence that cannot be tolerated. Every day, police officers across the country put their lives on the line to protect civilians and keep our communities safe. We must always be grateful to them for their bravery and the work they do to ensure our freedoms.
"This has been a trying week for our country. We've seen brutal videos of men killed by law enforcement officials in Louisiana and Minnesota, and these deaths have contributed to fury and unrest around the country regarding fair and equal treatment of all Americans by the people who are meant to keep them safe. The loss of life is always tragic, no matter the circumstances, and we must pray for every family that is suffering the unbearable wound of a lost loved one today. But we must reject the reaction to break apart and cast blame. We must instead unite to change our future so that it does not echo a dark past.
"In moments like this, American resolve to join together with compassion, respect and love is the only salve that will heal us. We have so much work to do, but by embracing our brothers and sisters and treating them as we, ourselves, would like to be treated, we can overcome even the most heartbreaking tragedies."
Delaware Governor Jack Markell posted the following statement on is Facebook page, on Friday afternoon.
"My thoughts and prayers are with the families and loved ones of those killed or injured in Dallas. Every day, good men and women put their lives on the line to protect our citizens, and last night the Dallas police were protecting the most fundamental of rights – the right to peaceably assemble. That five officers died and others were injured protecting the right of citizens to speak out about police misconduct elsewhere speaks volumes about the selflessness and sacrifice that officers make every day. I join the President, law enforcement authorities, and the protest organizers in condemning this senseless act of terror. Today I mourn for the fallen officers, and their families, and I pray that someday we might learn that violence is never the answer."
U.S. Senator Chris Coons (D-Del.) released the following statement after the shootings in Dallas.
"Today is a day to hug our kids tighter and to offer up our prayers and thanks for those who keep us safe. Our police officers and first responders serve in roles in which before every shift they hug their spouses and kids, knowing their job involves real risks. This morning, for five families in Dallas, that knowledge became a tragic reality.
"We have seen far too many tragic deaths this week, and we mourn all of the lives taken too soon. Every day, but especially on days like this, all Americans must come together peacefully to begin to heal our wounds and build towards a community of respect and compassion."
Delaware State Police expressed their condolences through a statement released Friday: 
"As American flags are lowered across this great nation, the Delaware State Police would like to express our sincere condolences and deep appreciation to the officers in Dallas who under fire willingly answered their call to duty. They freely put themselves into harm's way to help protect and save others. We would like to extend our hearts, thoughts and prayers to the Dallas Police Department and the Dallas Area Rapid Transit officers, first responders and their families. We are forever beholden to the men and women of the Dallas Law Enforcement community for their courageous service and untold sacrifices they have made and will continue to make to keep the public safe. 
All of Delaware is reminded to stay vigilant to prevent a crime or terrorist act. The Delaware State Police are consistently working to keep our state safe and are ready to act on information about suspicious circumstances. In the event of an emergency, people should still call 911. Citizens are encouraged to be watchful and observant in paying very close attention to their surroundings. If something does not look or feel right, they should take action and notify the police.
The Delaware State Police Fusion Center (Delaware Information and Analysis Center) is working closely with federal and state partners to assess any nexus or existing threats to Delaware. There are no known existing credible threats to Delaware.
Although there is no known threat to Delaware, state officials are reminding people of Delaware, of the important role they have in helping to keep our state safe by reporting suspicious situations or circumstances that could be related to crime or possible acts of terrorism. The Delaware State Police encourage increased vigilance against criminals and terrorists. If you observe activity that appears suspicious, a threat to public safety or related to a potential terrorist event please report it to law enforcement by calling 9-1-1 or the Delaware's Anti-Terrorism Tip Line at 1-800-Force12. The public can also submit a suspicious activity report through DIAC's website @ www.dediac.org. We each have a vital and essential role to play to ensure the safety of our families and we sincerely  appreciate your assistance."
Congressman John Carney (D-DE) released the following statement regarding the recent acts of violence across the country. 
"This is a terrible day in America. My heart aches for the families whose loved ones were killed in Dallas, Baton Rouge and Minnesota.  And my heart aches for our country.
We all know that law enforcement officers put their lives on the line every day.  They leave home in the morning knowing that they may not come home at night. We saw that valor last night when police officers in Dallas were on duty protecting demonstrators exercising their cherished right to free speech.  When shots were fired, police officers ran into the line of fire to protect the demonstrators and their fellow officers.
The protest in Dallas was triggered by horrific videos that showed the killing of African American men by police officers in Baton Rouge and Minnesota.  When we watched those videos, it was hard to believe what we saw was happening in America. They cry out for further investigation. 
My heart aches to see the racial divide between law enforcement and communities of color laid bare by these horrific incidents.  Every American is promised equal rights and treatment under the law but too many are led, by these incidents, to question that guarantee. We know that the success of police agencies across the country, including in Delaware, depend on the trust and cooperation of all the communities and citizens they serve.  
And so now, in the face of these tragic events, it's time for all Americans to come together and address these issues with mutual respect and to start to heal the wounds that have been opened."  
Maryland Governor Larry Hogan today issued the following statement:
"This morning, I share in the grief and heartbreak that burdens members of our law enforcement community as well as millions of Americans across the country. Yesterday's senseless violence and the shocking death of five police officers in Dallas was a tragedy unlike anything our country has witnessed in recent years.   
"The city of Dallas will be holding a moment of silence at 1pm ET today, and I am urging all Marylanders to stand with the people of Texas at that time. Let us mourn the deaths of those who put their lives on the line to keep Dallas safe; let us pray for the safety of the men and women in blue all across the country; and let us take time today and every day to thank our brave officers for their service and reassure them that they do not stand alone. 
"In Maryland and across the country, the obvious tensions between communities and law enforcement are real and cannot be ignored or swept under the rug. But there is so much more that unites us than divides us. Now is clearly a time for profound sorrow, but also for reflection, understanding and above all, compassion. 
"The First Lady and I send our most sincere thoughts and prayers to the families and loved ones of those who made the ultimate sacrifice in the line of duty, as well as to those officers recovering from this horrific shooting."
U.S. Senator Barbara A. Mikulski (D-Md.) Friday released the following statement on the shootings in Dallas, Texas Thursday night:
"I join Maryland and the nation in offering my deepest condolences to the families and loved ones of the officers killed and injured in the line of duty and the civilians caught in the crossfire last night in Dallas. 
"Each and every day, our law enforcement officers report for duty not knowing what dangers they may face. Men and women in blue put their lives on the line to keep our families and communities safe. I thank officers across the country for their service.
"Like all Americans, I am deeply concerned about racial disparities in our criminal justice system and about gun violence in our communities, our schools and our churches. Police officers have a difficult job and the vast majority serve in an outstanding and honorable manner.
"As we grieve with the families of the victims and struggle to understand this tragedy, we should lift up our voices in a unified call for peace."?
U.S. Senator Ben Cardin (D-Md.), author of both the Law Enforcement Trust and Integrity Act (S. 2168) and the Blue Alert Act (P.L. 114-12), issued the following statement on the violent, targeted attack on law enforcement officers in Dallas, Texas.
"Right now, Americans, citizens of a country boldly built on the rule of law, are joining the people of Dallas in mourning a horrible attack on law enforcement. My thoughts and prayers are with the families of the victims and their community. What happened last night, the most police killed at once since 9/11, will be seared into our collective memories as an attack on our civilized society. Moments prior, police were mingled together with peaceful protesters as men, women and children gathered together to freely exercise their rights and voice their opinions – their frustrations – as Americans. 
"In the coming days, there will be a national discussion on what happened, why it happened and how it could have been prevented. My hope is that the best traditions of American discourse and democracy will guide the way and we will base our discussions on the simple facts that law enforcement does best when trusted by the communities they serve, and that communities thrive when the law enforcement protecting them have empathy and understanding for members of the community.
"Law enforcement officers across America have uniquely difficult and dangerous jobs. Nothing justifies the heinous attack in Dallas. The one thing that remains constant among all Americans is that efforts to debase our hard fought way of life must only serve to make us stronger."