Annual Berlin Bathtub Race set for Friday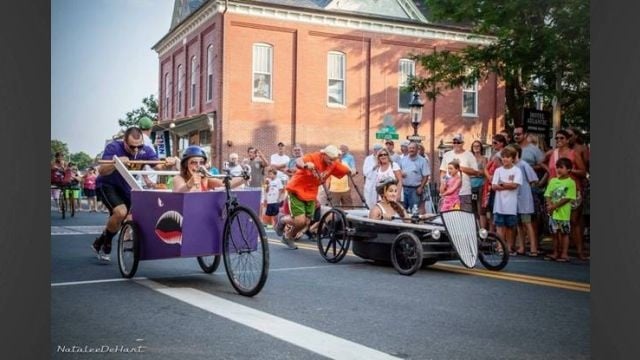 Have you ever seen a bathtub fly down the street? Well if not, the 27th Annual Bathtub Parade is coming up Friday in Berlin.
The parade will start at 6 PM, and the race will be open to anyone who wants to compete. Not only will the "Winner Takes All" trophy be returning, but first place will also take home a free banner ad on the Chamber's website.
Those interested in participating can check out the Chamber's rules below:
Driver and Rider must be 16 years of age or older
Wheels may be no larger than 26 inches
Bathtub must have brakes and steering
There must be at least one rider (helmet required)
No more than one person can push (closed toe shoes required)
Bathtub must hold a minimum of 2 gallons of water
There is no limit to the number of wheels
Businesses may advertise on the sides of their bathtub
Tub must be under control of a pusher at all times and may not be released until tub has come to a complete stop
Crossing the yellow line during the races will result in disqualification of that heat
Runner and pusher may change positions between races
For Berlin Chamber members, there is a $75 entry fee per tub, and a $100 fee for non members. These fees can be paid in cash, using a credit card, or with a check made out to the Berlin, Maryland Chamber of Commerce.
Chamber officials also say that heat sponsorships are available to have your business mentioned before and during the race as well as in press releases.
For more information about the races or how you can become a sponsor, contact the Chamber Office at 410-641-4775. Also be sure to check out the Chamber Facebook page, here.