Three suspects sought in Ocean City armed robbery investigation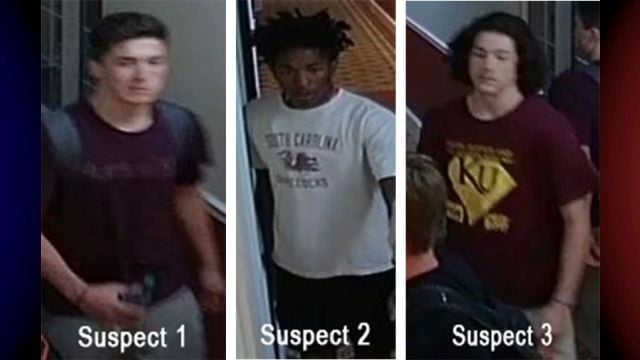 Police in Ocean City are looking for three suspects in connection to an investigation into an armed robbery.
The Ocean City Police Department says their Criminal Investigation Division Major Crimes Unit is looking for help in identifying three suspects  who were involved in an armed robbery that happened on Tuesday, at the Tidelands Caribbean Hotel, on Atlantic Avenue.
According to the report, during the incident the male victim was hit by an expandable baton, while a second suspect displayed a silver revolver-style handgun with a wooden handle during the incident.
According to Ocean City Police PIO Lindsay Richard, the victim, who was not employed at Tidelands Caribbean, was not specifically targeted and the incident was isolated.
Police describe suspect one as a man with short, dark hair, in his late teens to early 20s, with a thin build, and was seen wearing a backpack during the incident. Suspect two is apparently a man with short dreadlocks, in his late teens to early 20s with a thin build, who was last seen wearing a white t-shirt with a South Carolina Gamecocks emblem. Police describe suspect three as a male with shoulder-length dark hair and a larger build, who was wearing a maroon t-shirt with a Kutztown University emblem during the incident. Police have released surveillance photos of the suspects.
Anyone with information about the incident is asked to contact Detective Nick Simpson at 410-520-5349 or nsimpson@oceancitymd.gov. Tips can also be sent through the Ocean City website.