Orlando Shooting: No evidence yet of suspect's direct communication with IS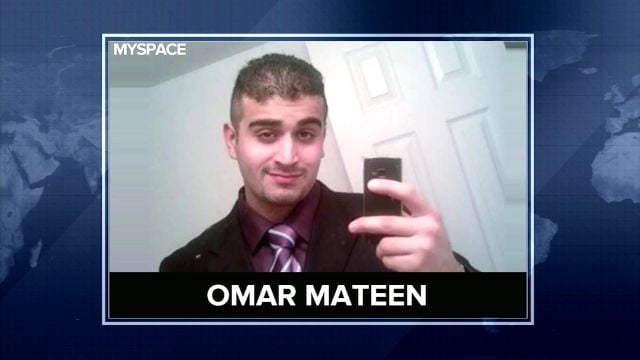 The Latest on the shooting at an Orlando nightclub (all times local):
7 p.m.
The top Democrat on the House Intelligence Committee tells The Associated Press that investigators have not yet found evidence of direct communication between the Orlando nightclub gunman and Islamic State members overseas.
Rep. Adam Schiff has been briefed multiple times by federal law enforcement. He says it is possible that Omar Mateen was self-radicalized but not "under the command and control of ISIS."
The California congressman says that could change and that it's too early to know whether there was something that could have been done to prevent the attack.
The FBI investigated Mateen in 2013 after he made inflammatory comments to co-workers alleging possible ties to terrorists. The following year, the agency looked into potential ties connecting Mateen to Moner Mohammad Abusalha, the first American to carry out a suicide attack in Syria.
He was cleared after both investigations.
___
6:40 p.m.
Seattle's openly gay Mayor Ed Murray says that every time progress is made in the U.S., there's a blow back and an increase in gay lesbian bisexual transgender violence.
Murray made the remarks Sunday after a gunman slaughtered 50 people in a gay nightclub in Orlando.
Murray says the massacre is absolutely an attempt at intimidation and fear. He says the community will come together and will not be intimidated.
___
The father of the Orlando nightclub gunman has a television show on Payam-e-Afghan, a California-based channel that supports ethnic solidarity with the Afghan Taliban, which are mostly Pashtun.
Viewers from Pashtun communities in the United States regularly call in to espouse support for Pashtun domination of Afghanistan over the nation's minorities, including Hazaras, Tajiks and Uzbeks.
Seddique Mateen's "Durand Jirga Show" has an anti-Pakistan slant. The name of the show references the Durand line, the long-disputed border between Afghanistan and Pakistan.
A former Afghan official said Seddique Mateen's show also expresses sympathy for the Taliban, complains about foreigners in Afghanistan and criticizes U.S. actions there. The official spoke only on condition of anonymity because he did not want to be linked to coverage of the shooting.
Seddique Mateen, who lavished praise on current Afghan President Ashraf Ghani when he appeared on the TV program in January 2014, has since denounced the Ghani government. The official said that on Saturday, Seddique Mateen, dressed in military fatigues, used his program to criticize the current Afghan government and announce that he would run in the next Afghan presidential election.
___
6:10 p.m.
A woman whose cousin was shot at a gay Orlando nightclub says he is in critical condition at a hospital.
LaToya Hall says her cousin Keon Carter was in the Pulse club early Sunday when a gunman opened fire and killed 50 people and wounded about 50 others.
Hall says her cousin is alert at Orlando Regional Medical Center. She says he tried to hold her hand and turn his eyes to look at her.
Hall says many people are having trouble locating victims because they are being listed under fake names.
___
5:20 p.m.
American Muslim leaders are condemning the attack on a gay nightclub in Orlando that killed 50 people and wounded more than 50 others.
Nihad Awad, the executive director of the Council on American-Islamic Relations, called the killings a hate crime and said the group has no tolerance for extremism of any kind.
A law enforcement official has said the gunman, Omar Mateen, called 911 from the nightclub and expressed allegiance to an Islamic State leader.
Awad says members of the LGBT community have stood with Muslims in the past and today they stand that community.
___
TNT has postponed the season premiere of "The Last Ship" in the wake of the shooting in Orlando.
The show, which stars Eric Dane, Rhona Mitra and Adam Baldwin, is about a group of people who've survived a pandemic that killed 80 percent of the world's population.
The network says in a statement that its hearts are with the victims and their families.
___
4:50 p.m.
About 100 people gathered in Paris for a spontaneous vigil at Place Igor Stravinsky to remember those slain and wounded at an Orlando nightclub.
Several people were draped in rainbow flags. They lit candles and took pictures as a person in head-to-toe fetish gear held up a sign saying "Proud." One woman carried a poster showing a ribbon with a rainbow on one side and an American flag on the other.
"To Orlando, we have love," it read.
Remi Perrenoud, 30, said the news hit him particularly hard because, like the victims, he had been out partying at a gay club Saturday night.
Ian Brossat, the capital's deputy mayor for housing, was at the vigil too. He says it seems important to mobilize to voice solidarity and to underline the fight against homophobia.
___
The Orlando mayor says of the 50 victims who died from the shooting at a gay nightclub, 39 were killed at the club and 11 people died at hospitals.
Orlando Mayor Buddy Dyer says at first officers mistakenly thought the gunman had strapped explosives to the dead victims and that the club was boob-trapped. A bomb robot sent back images of a battery part next to a body.
Dyer says that held up paramedics from going in until it was determined it was something that fell out of an exit sign or a smoke detector.
The robot was sent in after SWAT team members put explosive charges on a wall and an armored vehicle knocked the wall down in an effort to rescue hostages.
___
4:35 p.m.
A law enforcement official says the gunman who killed 50 people at a gay nightclub made a 911 call from the club, professing allegiance to the leader of the Islamic State, Abu Bakr al-Baghdadi.
The law enforcement official is familiar with the investigation but was not authorized to discuss the matter publicly and spoke on condition of anonymity.
Authorities say Omar Mateen opened fire at the Pulse nightclub in Orlando, killing 50 people and wounding more than 50 others before he was gunned down by police.
It was the deadliest mass shooting in modern U.S. history. Authorities were investigating the attack on the Florida dance club as an act of terrorism.
___
Afghanistan's president says he "strongly condemns" the attack on a Florida nightclub that killed at least 50 people.
President Ashraf Ghani said in a statement Sunday that "targeting civilians is not justifiable under any circumstances whatsoever." He offered his condolences to President Barack Obama, the American people and the families of the victims.
Afghanistan Chief Executive Abdullah Abdullah also offered his condolences.
Shooter Omar Mateen was born in New York. His ex-wife told The Washington Post that Mateen's family was from Afghanistan. The family later moved to Florida.
The ex-wife is not named in the Post report.
4:05 p.m.
The FBI says agents twice investigated the man who killed 50 people inside a gay nightclub, but closed those cases after interviewing him.
FBI agent Ronald Hopper said Sunday that Omar Mateen had been interviewed in 2013 and 2014. Hopper said agents first investigated Mateen after he made inflammatory comments to co-workers alleging possible ties to terrorists.
Mateen was interviewed twice and, when investigators were unable to verify the details of his comments, the FBI closed the probe.
In 2014, the agency looked into potential ties connecting Mateen to Moner Mohammad Abusalha, the first American to carry out a suicide attack in Syria. Like Mateen, Abusalha lived in Fort Pierce, Florida.
Hopper says agents determined that contact was minimal and did not constitute a substantive relationship or a threat at that time.
Mateen was 29 years old and born in New York. The FBI says he referred to the Islamic State in a 911 call before the slayings.
___
4:05 p.m.
Organizers of Denver's PrideFest, which holds a parade and rally that has attracted hundreds of thousands of lesbian, gay, bisexual and transgender people in past years, is going ahead with their festival next weekend amid heavy security following the shooting deaths of at least 50 people inside a crowded gay nightclub in Orlando early Sunday.
Organizer Debra Pollock says parade and rally participants in Denver have always been security-conscious, but members of the GLBT Community Center of Colorado have also received training on how to deal with active-shooter situations.
Pollock says the organizers will have metal detectors and fences set up at Civic Center Park for the rally, and there will also be security on the parade route and people will be searched as in past years.