Great Grains cereal recalled due to Listeria contamination concerns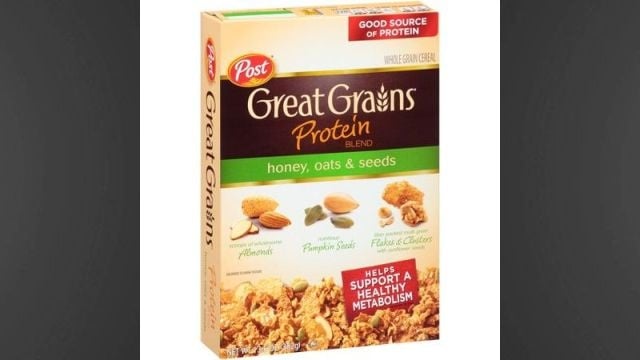 A local grocery chain says that it has pulled a type of cereal from sale, after it was recalled by its manufacturer for possible listeria contamination. Giant Foods says they have removed some Post Consumer Brands – Great Grains Protein Blend – Honey, Oats & Seeds cereal products from their shelves, because they are potentially contaminated with Listeria monocytogenes.
The following product is included in this recall:
Great Grains Protein Blend – Honey, Oats & Seeds cereal, UPC 884912004567 with best when used by codes of AUG1416-AUG1716; NOV0916-NOV1216; FEB1817-FEB1917
Giant says they haven't received any reports of illness at this time. Officials say that Listeria is a common organism found in nature, but that eating food contaminated with Listeria monocytogenes can cause listeriosis, an uncommon but potentially fatal disease.
Healthy people rarely contract listeriosis, but according to Officials, listeriosis can cause high fever, severe headache, neck stiffness and nausea, and fatal infections in those with weakened immune systems, such as infants, the elderly and persons with HIV infection or undergoing chemotherapy.
Those who have purchased the Great Grains cereal products listed above, should throw away any unused portions, and bring their purchase receipt to Giant for a full refund.
Questions about the recall can be directed to Post Consumer Brands at 1-800-431-7678 or Giant Food Customer Service at 888-469-4426.