Del. legislature raises awareness for veteran suicide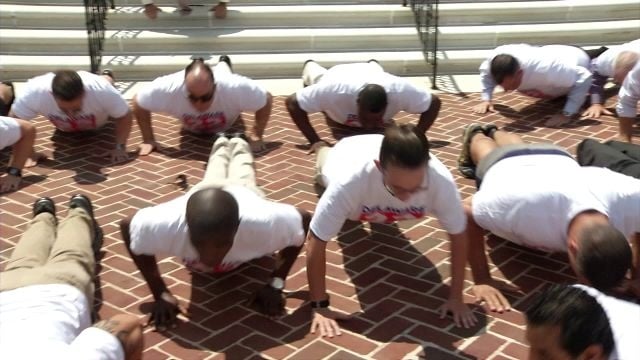 Tuesday afternoon the 88 degree weather didn't keep the Delaware legislature from a little physical training, all in the name of raising awareness for the campaign 22 in 22.
The idea is simple, you pick a physical activity, say push-ups and you do 22 push-ups for 22 days straight to raise awareness for the 22 veterans that take their life by suicide every day.
Delaware native Jacob DiSabatino said he started the campaign last year and he believes it's a cause that needs the publicity.
"We ask people to do the 22 in 22 challenge, post in on Facebook when they finish and spread the awareness about stop soldier suicide in our community that way we can raise awareness for our veterans," DiSabatino said.
Delaware House Majority Leader Rep. Valerie Longhurst (D) brought the campaign to the legislature getting support from both parties and the governor to drop down and give 22.
"What better way to bring that attention then here in the Delaware General Assembly and I think I did that with everybody that was here," Longhurst said.
Longhurst said veteran suicide is an all too common reality in today's world.
Something that Major General Frank Vavala of the Delaware National Guard knows all too well after losing two of his own soldiers to suicide just last year.
"Really it's raising awareness to a horrific epidemic that's occurring in our country. When you think about members of the military or veterans, 22 each day taking their lives through suicide it's horrific," Vavala said.
Although there is no quick fix for the epidemic, Vavala said the first step is making people aware of it and letting veterans know that they're not alone in this battle.
If you'd like to join the campaign all you have to do is take a video of your self completing the daily challenge and post it using the hash tag 22 in 22 on the group's Facebook page.
People are also asked to challenge friends to join.