47ABC takes home 10 CAPBA awards Saturday night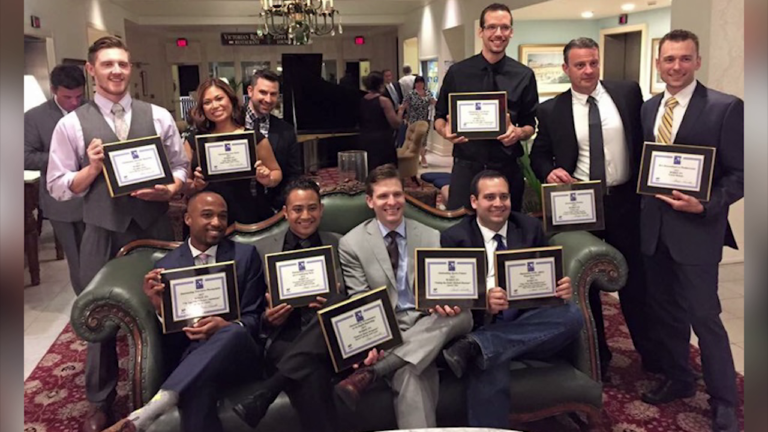 47 ABC is proud to accept 10 awards from the Chesapeake Associated Press Broadcasters Association. CAPBA presented its annual awards Saturday night at a banquet in Ocean City, MD.
For the second year in a row the 47 ABC Sports team received the award for "Outstanding Year-Round Local Sports." Sports Director Spenser Tilus also received "Outstanding Sports Feature" for his piece "Taking the Field: Michael Harmon."
The 2015 special report "Tiny Tick: Big Controversy" was named "Outstanding Public Affairs Program." The mastermind behind the project, Senior Anchor and Lead Investigative Reporter Emily Lampa, recently received an Emmy Nomination for the project as well.
Chief Meteorologist Travis Michels was also a big winner Saturday night. He was named "Best Meteorologist," and also shared the award for "Outstanding Specialty Reporting," with editor Darryl Baxter.
Both the News and Digital team was proud to accept the award for "Outstanding Website" for 47abc.com. Finally the news team took home several additional victories.
See a full list below.
Outstanding Coverage of a Continuing Story: "Pocomoke Police Controversy" – Emily Lampa, Julian Sadur, Allen Vickers (former MMJ/Photographer), Jamale Stevenson,
Outstanding News Series: "Life After Death" – Emily Lampa Allen Vickers (former MMJ/Photographer)
Outstanding Photography (TV only): "On The Job: Salisbury Sanitation" – Jamale Stevenson
Outstanding Public Affairs: "Tiny Tick: Big Controversy" – Emily Lampa, Josh Lynch, Mike Lawrence, Allen Vickers (former MMJ/Photographer), Nick Waligorski
Outstanding Specialty Reporting: "Weather Wise" – Travis Michels, Darryl Baxter
Outstanding Documentary/ In-Depth Reporting: "Eastern Shore Dropouts" – David Caldwell, Josh Lynch
Outstanding Sports Feature: "Taking The Field: Michael Harmon" – Spenser Tilus
Best Meteorologist or Weathercaster (TV only): "Chief Meteorologist Travis Michels" – Travis Michels
Outstanding Year-Round Local Sports: "47 ABC Sports" – Spenser Tilus, Travon Miles, Angela Santoro (former Sports Reporter)
Outstanding Website: "47abc.com" – Sarah Truitt, Leanne Guyette, Gregory LaFrance, Phil Comeaux