Warriors Claim Regional Title Over Saints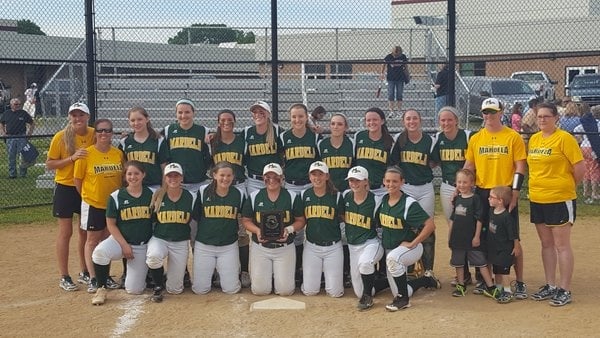 The Mardela softball team earned their revenge along with the Regional Title Friday afternoon when they traveled to take on previously undefeated St. Michaels, pulling out a 4-1 win. The win sends the Warriors onto the State Semifinals on Tuesday.
The Warriors would strike first in the 2nd inning after Kasey Goshorn would turn on a pitch for a stand up RBI double, scoring Baylee Littleton. The lead would then stretch to 3-0 after aggressive base running would eventually set up for a 2 RBI double by Mackensie Disbennett. The lead looked more than enough for Kalie Adkins as she settled in and would coast to the 7th inning. 
But Mardela wasn't finished just yet. There, Sydney Goertzen would slap a pitch to left for a single. Then off a pass ball, she would show off her well known family speed, by going from 1st to 3rd. That would set up a RBI by Littleton, as she sent one to left that would be just deep enough for Goertzen to slide in under the tag.
The Saints though weren't ready to give up on their undefeated season just yet. Layla Berry would work an at bat to get on base with a walk. The a couple pass balls would find her on 3rd before she was able to score off another wild pitch. The Warriors weren't rattled though, and the Adkins would prove it. She through a wicked curve, that drifted back towards the plate on a 2-2 pitch. It would hit the batter in the box as she started toward first. The ump would rule that the pitch would've been a strike, resulting in being strike 3, and the clock striking midnight on the Saints perfect season. Gloves were thrown in the air, as the Warriors celebrated topping one of the best teams in the state, just weeks after losing to them in heartbreaking fashion in the Bayside Title game.
The loss concludes the greatest season in St. Michaels history for their softball team, which included the programs first Bayside North Title, first Bayside Title, and first time finishing a regular season undefeated.