Two charged for burglaries and thefts from vehicles in Greenwood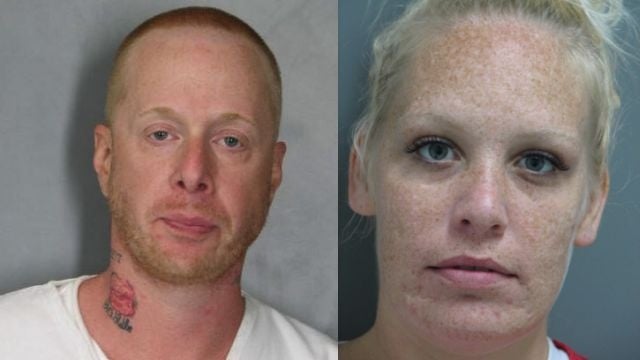 A Greenwood couple has been charged, after Police say they were involved in several thefts from vehicles, and the burglary of a shed.
Delaware State Police say on Monday, they arrested 36-year-old Adam Walls, in connection to a series of car break-ins. Detectives say during their investigation, they found similarities between thefts from vehicles that happened on May 1 and 5, at the Royal Farms on Beach Highway. According to the report, the suspect would get into the cars, and then remove items such as purses, phones, and cash.
In one May 7 incident, Police say the suspect smashed a window on a tractor trailer parked at a home on Hunters Cove Road, and removed a wallet containing the victim's credit cards and cash. Walls was discovered as the suspect, when he was apparently found trying to use the victim's credit car at the Royal Farms where he was seen breaking into cars.
Walls was eventually picked up by Troopers, after a brief vehicle pursuit when he tried to run from his vehicle on Nat Turner Street.
During the investigation, Police say that Walls, and his 29-year-old girlfriend, Heather Totty, had burglarized a detached shed at a property on Oak Road, in Greenwood. The two had apparently stolen lawn equipment twice in two day on both May 6 and 7, and then eventually reportedly pawned it for drugs. Police say the stolen lawn mower was located by detectives hidden in the wood line behind Wall's property, and returned to the owner.
Walls and Totty were then charged with two counts of burglary third degree, two counts of conspiracy second degree, and two counts of theft. Walls was additionally charged with disregarding a police officer's signal, three counts of theft, resisting arrest, criminal trespass, criminal mischief, and various other traffic related offenses.
He was ordered to be held by the Delaware Department of Corrections on $6,504 secured bond, while Totty, who was already incarcerated at Delores J. Baylor Women's Correctional Institution for unrelated charges, was given a $6,000 unsecured bond. She reportedly remains in custody of the Department of Corrections.