47 ABC Evening News Team accepts Lyme Disease Challenge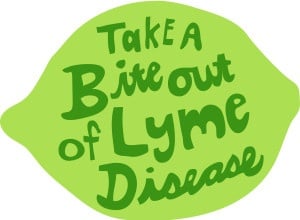 47 ABC anchors, Emily Lampa and David Caldwell, and Chief Meteorologist, Travis Michels took the Lyme Disease Challenge, Wednesday night, at the end of the 11pm newscast in support of Lyme Disease Awareness Month.
After hearing about the 47 ABC Special Report, "Tiny Tick, Big Controversy 2", folks on Twitter and Facebook challenged Emily Lampa to "Take a bite out of Lyme". The Lyme Disease Challenge is very similar to the "ALS Ice Bucket Challenge", but instead of dumping a cold bucket of ice water on yourself to raise money and awareness about ALS, challengers take a bite out of a slice of lime to raise awareness and money for Lyme Disease education.
In a show of solidarity, David and Travis joined Emily to take the challenge by biting into a slice of Lyme, stating one fact about Lyme Disease, and then passing the challenge along, by naming three people each.
Emily challenged Maryland Governor Larry Hogan, Virginia Governor Terry McAuliffe, and her husband Nick to take the challenge next. She stated she would have also challenged Delaware Governor Jack Markell, had it not been the fact that he already did the challenge.
David challenged his brother Brad, 47 ABC Reporter Colin Bradle, and his friend Allie Swanson who runs the Activist Organization in Washington DC.
Travis challenged his mother Dolores, his father Charlie, and his brother Zach.
The 47 ABC Special Report, "Tiny Tick Big Controversy 2," airs Saturday, May 21st at 7:30pm after Delmarva Sports Insider.