Five men arrested during home search in Dover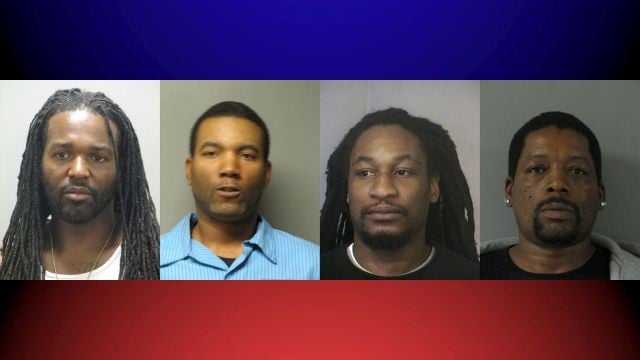 Investigators say five people were arrested, after drugs and weapons were found during a search warrant.
Dover Police say on Wednesday, Officers with the Drugs, Vice, and Organized Crime Unit and Street Crimes Unit say they searched a residence on Ridgely Drive, in connection with a lengthy drug investigation. During the search, Officers say they found two firearms, 71 doses of ecstasy, and a small amount of marijuana. One of the guns was apparently reported as stolen. Dover Police say they then took four people in custody.
Jessie Delaney, 35, of Dover was charged with a parole violation out of New York, and was held at the James T. Vaughn Correctional Center, without bond.
Durell Patton, 37, and Raymond Grier, both of Dover, were each charged with two counts of possession of firearm by person prohibited, possession of ammunition by person prohibited, conspiracy second degree, and receiving stolen firearm. Patton was additionally charged with drug paraphernalia. Both men were then ordered to be held at JTVCC on a $30,000 secured bonds.
Fatou Small, 37, of Dover was charged possession of tier five quantity ecstasy, possession with intent to deliver ecstasy, possession of ammunition by person prohibited, and conspiracy second degree, and held on $40,501 secured bond at JTVCC.
Antonio Kiser, 45, of Milford, apparently had six capias'.