Dover High kicks off I PROMise campaign for prom night safety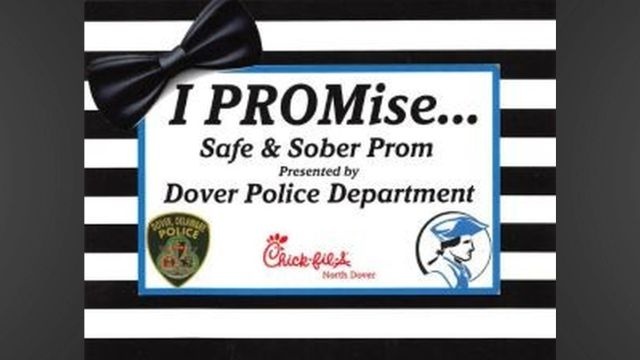 Dover High School students now have the chance to win a free Chic-fil-A sandwich, and a limo ride to their senior prom!
According to the Dover Police Department, this initiative urges teens to make smart choices on prom night with the launch of the I PROMise campaign.
Partners in the campaign include Dover High School and the North Dover Chick-fil-A. Officials say, as students purchase tickets for prom, they are encouraged to complete the pledge. Once every student who completes the pledge, officials say they will receive a coupon from the North Dover Chick-fil-A for a free chicken sandwich and have their pledge card entered into a Grand Prize Raffle.
The Grand Prize is for limousine transportation with a motorcycle escort by Dover Police Officers, for the winner and up to seven friends on prom night.
Officials say, that's not all they'll win, North Dover Chick-Fil-A is also offering the students a free dinner, complete with table service, just before the prom in return for the abstain of alcohol and drugs on prom night.
Capital School District Superintendent, Dr. Dan Shelton, says the I PROMise a Safe and Sober prom is just another great example of how Dover High School and the Dover PD are working together to ensure that students are safe and demonstrates the commitment shared to the youth the community.
Academic officials say, any Dover High School student can take the I Promise Pledge by visiting the prom ticket sales location during school hours when tickets go on sale, and entries for the Grand Prize package will be accepted through May 6th.