Bowie man arrested on drug charges following Grasonville traffic stop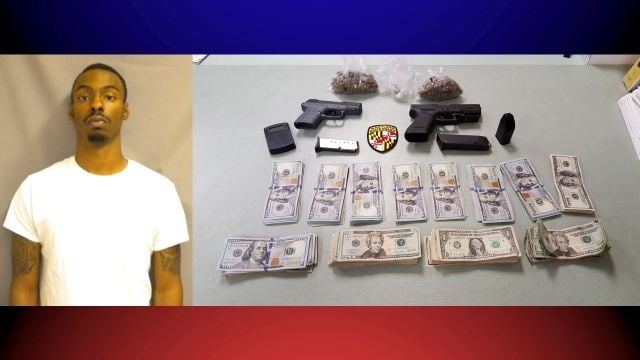 A traffic stop in Queen Anne's County, landed one Bowie man behind bars on drug and weapons charges.
Maryland State Police say a Trooper working a special distracted driving enforcement initiative, pulled over a Pontiac Grand Am on Sunday around 6:00 PM, on Route 50 in Grasonville, for using a hand held cell phone.
During the stop, the Trooper says they smelled a strong odor of raw marijuana, and searched the car. Police say inside the Grand Am they found two ounces of marijuana, packaged for distribution, several items of drug paraphernalia, and over $10,000 in cash, along with two firearms, one of which had a defaced serial number.
The driver, 20-year-old Darin March, Jr. was then arrested and charged with illegal possession of firearms, possession of marijuana, possession of a controlled dangerous substance with the intent to distribute and numerous other criminal charges, along with a traffic citation for using a hand held cell phone while driving. He was then ordered to be held at the Queen Anne's County Detention Center on a $100,000 bond.
Police note that the use of a hand held cell phone while driving is a primary offense in Maryland, and that while April is recognized nationally as Distracted Driving Awareness Month, the Maryland State Police, along with law enforcement partners statewide, target impaired, distracted and aggressive drivers year round.