Motorcycle crash in Felton injures one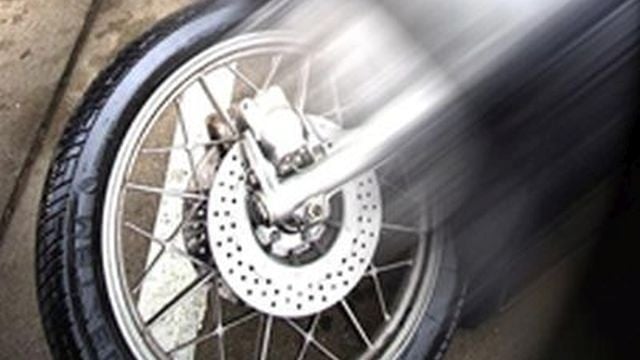 Troopers say they are investigating a motorcycle crash, that left a Felton man in serious condition.
Delaware State Police say around 6:30 PM on Tuesday, 63-year-old Rhonda Martin, of Felton was driving a 2004 Jeep Liberty on Sandtown Road, near Cabin Ridge Road. At the same time, Police say 29-year-old Paul Perry, of Felton, was riding a 2002 Kawasaki Ninja on Sandtown Road, coming up behind the Jeep.
According to the report, the Jeep started to turn right into a private driveway, but when Perry pressed the brakes, he skidded about 62 feet before the bike slid on its side, and hit the Jeep on the right back corner. Perry was apparently ejected from the motorcycle, and landed on the side of the road.
Police say Perry was wearing a helmet during the crash. He was air-lifted from the scene by Delaware State Police Aviation to Christiana Medical Center, where he is currently listed in critical condition. Martin, the driver of the Jeep, was wearing a seat belt, and was reportedly not injured in the crash.
The DSP Collision Reconstruction Unit says they are continuing their investigation into this incident, and that no charges have been filed. Police are asking anyone who may have witnessed this collision, to contact Sergeant M. Groce at 302-698-8518 or Delaware Crime Stoppers at 1-800-TIP-3333. Tips can also be sent through the Tip Submit website, or via text to 274637 (CRIMES) using the keyword "DSP."
Sandtown Road was reportedly closed for about three and a half hours, while the crash was investigated and cleared.
Delaware State Police say with the warmer weather, more motorcycles are back out on the road and the drivers of passenger vehicles need to be alert. They are offering these steps to help keep motorcyclists safe:
Allow a motorcyclist the full lane width.  Although it may seem as though there is enough room in a traffic lane for an automobile and a motorcycle, the motorcycle needs the full room to maneuver safely.  Do not share the lane.
Always signal your intentions before changing lanes or merging with traffic. This allows the motorcyclist to anticipate traffic flow and find a safe lane position.
Remember that motorcyclists are often hidden in a vehicle's blind spot or missed in a quick look due to their smaller size.  Always make a visual check for motorcycles by checking mirrors and blind spots before entering or leaving a lane of traffic and at intersections.
Don't be fooled by a flashing turn signal on a motorcycle – motorcycle signals usually are not self-canceling and riders sometimes forget to turn them off. Wait to be sure the motorcycle is going to turn before you proceed.
Remember that road conditions which are minor annoyances to passenger vehicles pose major hazards to motorcyclists.  Be aware that motorcyclists may need to change speed or adjust their position within a lane suddenly in reaction to road and traffic conditions such as potholes, gravel, wet or slippery surfaces, pavement seams, railroad crossings, and grooved pavement.
Don't tailgate a motorcycle.  Allow more following distance, three or four seconds, when following a motorcycle so the motorcyclist has enough time to maneuver or stop in an emergency.  In dry conditions, motorcycles can stop more quickly than cars.
Police say motorcyclists have responsibilities too, and have to follow the rules of the road, and should not be weaving in and out of traffic. Motorcyclists should be alert to other drivers and always wearing protective gear including high visibility outerwear.
According to State Police, in 2014 motorcycles were involved in 398 crashes, 12 of them being fatal, 232 of them resulting in personal injuries, and 89 being property damage. In 2015 motorcycles were involved in 402 crashes, 20 of them were fatal, 209 of them were personal injuries, and 106 were property damage.  The remainder of the crashes for both years were a result of minor or non-reportable crashes.
DSP's final word of advice is "Share the Road" with motorcycles and "Look Twice."