Giant recalls Wonderful Pistachios for possible Salmonella contamination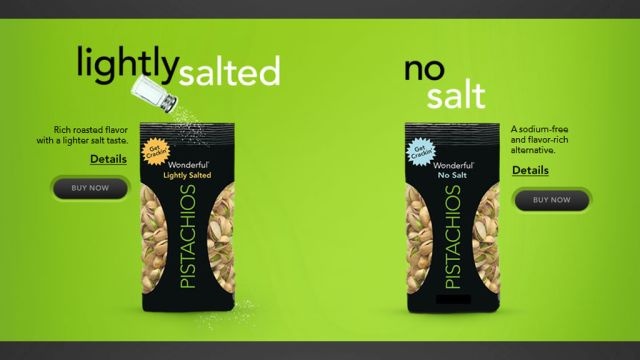 A local grocery store chain says they are pulling several flavors of nuts off their shelves, amid Salmonella contamination concerns. Giant Food, LLC. says Wonderful Pistachios is removing a limited number of flavors and sizes of in-shell, and shelled pistachios because of potential Salmonella contamination.
The following products are included in this recall:
Wonderful Roasted no Salt Pistachios, 16 oz., UPC 1411391006 with best by dates of 2016 OCT 27 and lot codes of 1509123255901;1509123256001 and 1509123255601
Wonderful Roasted Shelled Salted Pistachios, 6 oz., UPC 1411373406 with a best by date of 2016 OCT 26 and a lot code of 1509123260401 or a best by date of 2016 NOV 02 and a lot code of 1510123295301
Giant says they haven't received any reports of illness at this time, but eating food contaminated with Salmonella can cause salmonellosis, one of the most common bacterial foodborne illnesses. It can be life threatening to those with weak immune systems. The most common symptoms of salmonellosis are diarrhea, abdominal cramps, and fever within eight to 72 hours, along with possible chills, headache, nausea and vomiting that can last up to seven days.
Anyone who has purchased any of the products listed above, should discard any remaining portions, and bring their purchase receipt to Giant for a full refund. Consumers looking for additional information on the recall may call Wonderful Pistachios at 844-505-3844 or Giant Food Customer Service at 888-469-4426.