Two fugitives arrested during Rehoboth Beach traffic stop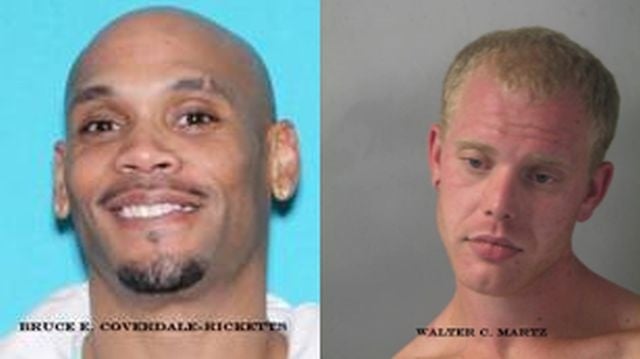 A traffic stop in Rehoboth Beach, led to the arrest of two fugitives.
Rehoboth Beach Police say on Saturday around 8:30 AM, an Officer stopped a red Ford Mustang on Rehoboth Avenue, after a registration check showed that the owner, 39-year-old Bruce Coverdale-Ricketts, of Seaford, had an active traffic warrant.
During the stop, Police say they found 24-year-old Walter Martz, of Lewes, was driving, and he had three active warrants in Delaware, and one active warrant out of Pennsylvania. The Pennsylvania one, was apparently for failing to appear in court for a DUI charge. Police say Martz was driving on Saturday, without a valid driver's license.
Both Martz, and Coverdale-Ricketts, who was a passenger in the car, were arrested on their outstanding warrants, and the Mustang searched. Coverdale-Ricketts reportedly had multiple hypodermic needles in his possession at the time of his arrest. During the search of the vehicle, Police say they found hypodermic needles and a bag containing about 14 grams of marijuana.
Coverdale-Ricketts was charged with 1 count of delivery of hypodermic syringe and needle, and 1 count of possession of marijuana of personal use quantity, before being arraigned, and released on a $2,000 unsecured bail.
Martz was issued a traffic summons for 1 count of driving without a license, arraigned on the outstanding warrants, and ordered to the Sussex Correctional Institution, on a $500 secured bail.