Shoplifting arrest leads to meth lab discovery in Felton, three charged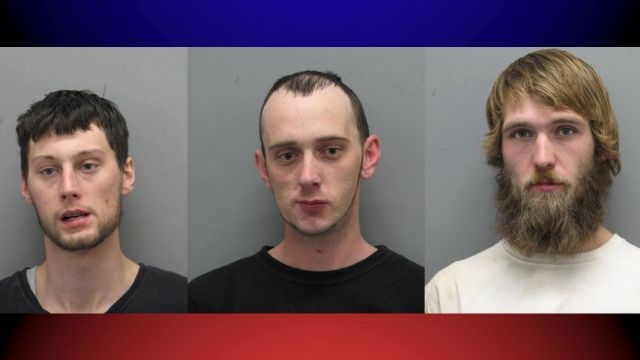 Three people have been arrested, after Police say they were found to be operating a methamphetamine lab on a property in Felton.
Delaware State Police say on Wednesday around 4:15 PM, members of the Kent County Governor's Task Force, along with Probation and Parole Officers went to run an administrative probation check on 24-year-old Michael Baker, at a home on Hills Market Road. Investigators say Baker had been arrested earlier in the day, after stealing items from Lowes in Camden, which were common components used to make meth.
Once on scene, Baker, along with 33-year-old Todd Plummer, of Greenwood, and 25-year-old Christopher Divel, of Houston, were found in an detached garage on the property, and taken into custody.
As Probation Officers were searching the garage, they say they found equipment and component mixtures of the manufacturing stages of meth, along with key ingredients in making the drug. A search of the house reportedly revealed three shotguns, and two rifles, along with ammunition for the weapons.
All three men were taken to Troop 3 in Camden, to be charged. Baker, Plummer, and Divel were each charged with operating a clandestine laboratory, possession with intent to deliver a counterfeit controlled substance – meth, conspiracy second degree, possession of drug paraphernalia, and possession of methamphetamine. Both Baker and Plummer were additionally charged with two counts of possession of a deadly weapon by a person prohibited.
They were then arraigned, and ordered to be held at the James T. Vaughn Correctional Center on a $8,200 secured bond, while Divel was held on a $6,100 secured bond.