Upwards of $300k in electronics reportedly stolen from stored boats in Grasonville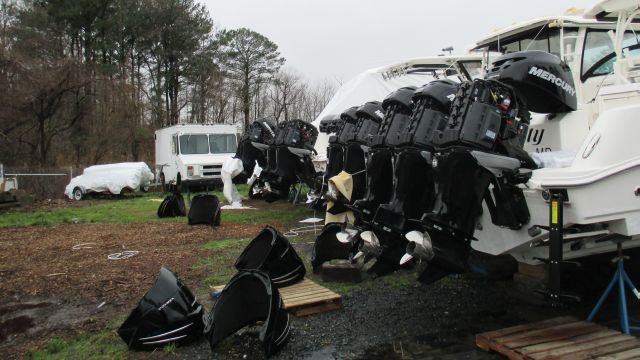 Investigators say several hundred thousand dollars worth of electronics were stolen from boats being stored for the winter, in Grasonville.
The Office of the Sheriff for Queen Anne's County says on December 29, 2015, Deputies responded to Chesapeake Whalertowne on Hess Frontage Road, for reports of a burglary and theft. Once on scene, Investigators say they found that between 25 and 30 boats stored in a locked fenced area, had the Power Propulsion Control Modules from their Mercury Outboard engines stolen. There was also apparently other electronic equipment, including navigation units, stereos and GPS systems systems stolen from the vessels.
A single PCM is valued at nearly $6,000, and makes the engine run faster, according to the report. The Sheriff's Office believes that several suspects were involved, who would have had experience working on this kind of engine, and would have been at the yard for an extended period of time.
The boats were being stored for the winter, and don't belong to Chesapeake Whalertowne. The stolen items, damage, and repair costs have apparently been estimated between $300,000 to $400,000.
The Sheriff's Office is asking anyone with information about this incident, to contact the Sheriff's Criminal Investigation Unit at 410-758-0770, email sheriff-info@qac.org, or by private message to the Sheriff's Office Facebook page.