Snowstorm did not cause the feared widespread power outages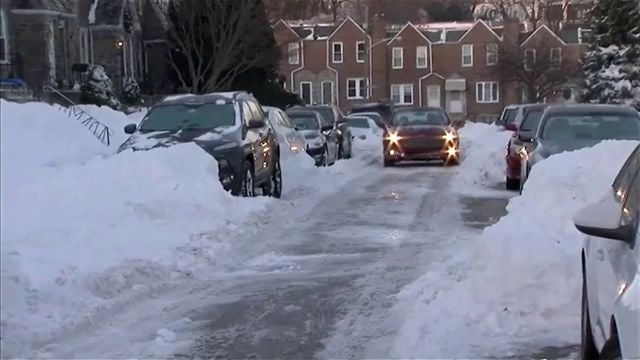 (AP) – The latest on the big weekend snowstorm in Virginia as residents began to dig out (all times local):
12:55 p.m.
    
The big weekend snowstorm failed to deliver the widespread power outages that officials feared and expected.
    
Dominion Virginia Power spokesman David Botkins said Monday that about 55,000 customers lost service at some point over the weekend. In comparison, Hurricane Isabel in 2003 knocked out service to about 1.8 million of Dominion's approximately 2.5 million customers.
    
Botkins said Dominion was prepared for massive outages, but no more than a couple of thousand customers were without power at any time in any one region. He said Virginia has had summertime thunderstorms that have caused more widespread outages than this snowstorm.
    
According to Botkins, the snow was mostly powdery and light – not the wet, heavy kind that tends to take down power lines.
    
___
    
12:20 p.m.
    
Ross Munroe was among the many Virginians literally digging out after the big winter storm that dumped up to 3 feet of snow in some places.
    
The 28-year-old restaurant manager shoveled away nearly a foot of snow that encased his girlfriend's Volkswagen Beetle on a downtown Richmond street Monday. The couple had another day off because of the icy streets, but Munroe's girlfriend was due back at work Tuesday, so he figured it best to go ahead and free her car. He planned to wait another day, and see how much snow melts, before tending to his own vehicle parked a couple of blocks away.
    
The couple spent the weekend indoors watching movies, enjoying a rare four-day break from work. But by Monday morning, Munroe said, he was getting a little stir crazy.
    
___
    
11:30 a.m.
    
Virginia State Police are reporting three more hypothermia-related deaths in the state.
    
Those fatalities bring Virginia's unofficial death toll from the big snowstorm to eight.
    
State police say the medical examiner's office has confirmed hypothermia deaths in Hampton and Wise, Charles City, Gloucester and Henry Counties.
    
One person died in a traffic fatality in Chesapeake, and another in Virginia Beach, although the latter has not officially been confirmed as weather-related.
    
A man died while shoveling snow outside his house in Daleville, but the medical examiner's office does not officially list snow-shoveling deaths as weather-related.
    
Since the storm began, state police have responded to nearly 1,600 traffic crashes and more than 2,500 disabled vehicles.
    
State government offices and many schools remained closed, and officials urged Virginians to avoid unnecessary travel.