"Holiday Heroes" helps 29 Dover children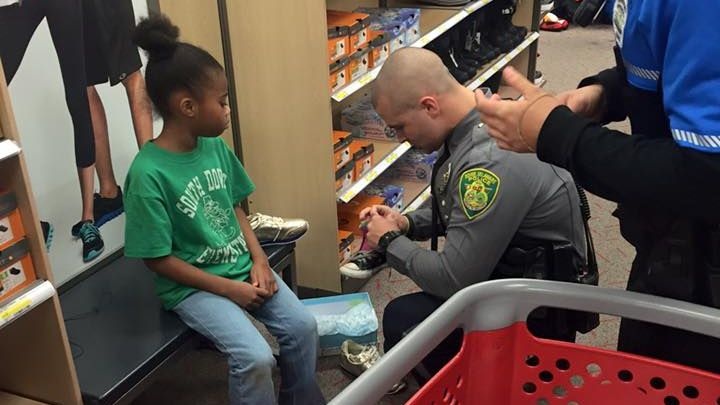 Police and children took over a Dover Target on Wednesday during the annual "Holiday Heroes" event hosted by the Dover Police Department.
The event, which celebrated its third year on Wednesday, helps Dover youngsters have a memorable shopping experience for the holidays.
47 ABC spoke to 10-year-old Neveah, who was one of 23 children roaming the aisles on Wednesday. Each child was paired with members from the Dover Police Department who helped them spend 175 dollars each.
"I got this Rock and Roll Barbie doll, and my mom said I wake up too late so she got an alarm clock," She proudly showed us.
This was the biggest group of children police have reportedly taken through their "Holiday Heroes" program which launched in 2013.
Corporal Mark Hoffman of the Dover Police Department explains the program initially saw a significant drop in private donations this year, putting them at risk of having a decrease in the amount of families they would have been able to serve.
"As with anything, a lot of companies are cutting back on their non-profit donations." Explains Corporal Hoffman. "We saw some slow fundraising done online with our go-fund-me page. Normally we hit our goal on go-fund-me by thanksgiving or a week after thanksgiving but this year, we only hit about 15 to 20 percent of our goal around the thanksgiving holiday."
It appears several local companies like Winner Auto Group saved Christmas, so to speak, by stepping up to make big donations. This helped the police department reach their goal of just under 6,000 dollars all within days of the event.
"There's a lot of families and children in Delaware that are without this year and it's always helpful to give back whether clothing, food or just being with someone at Christmas time." Explains Sherri Walls of the Winner Auto Group.
For the kids, carts of toys, books and clothes were filled to the rim; however, Corporal Hoffman says the bond between the officers and the children gained through programs like these is priceless.
All together, the Holiday Heroes program helped 29 kids this year. A number of kids who didn't make it out to the event on Wednesday will still get to shop with an officer before Christmas.