DuPont, Dow Chemical seek merger, then 3-way split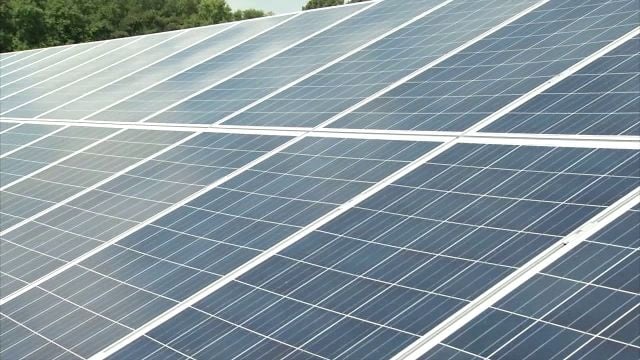 (AP) – Dow Chemical and DuPont are merging to form a company valued at about $130 billion as they try to counter falling commodities prices and weakness in some key markets that have pressured their giant agriculture and chemicals businesses.
The two companies, whose research has brought the world products ranging from Ziploc bags and Saran wrap developed by Dow to DuPont's Teflon coatings and Nylon and Kevlar fibers, will first form DowDuPont, then separate into three independent publicly traded companies focused on agriculture, material science and specialty products.
    
The proposed merger, announced Friday, would temporarily create the world's second-largest chemical company, behind BASF. It comes as both Dow and DuPont Co. have seen recent declines in agricultural performance and been pressured by activist shareholders to control spending and shift away from commodities to faster-growing parts of their businesses.
    
"Overall, this transaction represents a tectonic shift in an industry that has been evolving over the last many years," said Dow chairman and CEO Andrew Liveris, calling the merger a seminal event for employees and customers of the two companies, which have a combined workforce of more than 110,000 people.
    
DuPont chairman and CEO Edward Breen said the "industrial logic" behind the deal was compelling.
    
"When I look at DuPont and Dow, I see businesses that fit together like hand and glove," Breen said.
    
DuPont shares fell 5.4 percent to $70.56 in midday trading. Dow Chemical shares were down 3 percent at $53.27.
    
Breen took over as DuPont CEO following the abrupt resignation in October of Ellen Kullman, who just a few months earlier fended off a proxy challenge by Trian Fund Management, a hedge fund led by activist investor Nelson Peltz. Peltz has called for DuPont's agriculture, nutrition and health and industrial biosciences units to be combined into a single growth company, separate from the more cyclical businesses of performance materials, safety and protection, and electronics and communication.
    
Similarly, Dow has been pressured by hedge fund Third Point LLC, led by activist investor Dan Loeb, to split its specialty chemical and petrochemical businesses. Dow avoided a proxy fight last year by adding four independent directors, giving board seats to two Loeb nominees.
    
"Both Dow and DuPont had activist shareholders who had sought breakups of these companies, so ultimately the visions of these activists are being realized," said James Sheehan, an analyst for SunTrust Robinson Humphrey.
    
Sheehan said the deal also could spark other mergers in the ag-chemical industry. Earlier this year, Missouri-based Monsanto, the world's largest seed company, abandoned a $46.5 billion hostile bid for Swiss pesticide giant Syngenta. Last month, Syngenta rejected a $42 billion offer from state-owned China National Chemical Corp.
    
Michael Ritzenthaler, an analyst for Piper Jaffray, said he expects Monsanto to renew its bid for Syngenta. Other big players who could figure in deals include Germany's BASF and Bayer AG.
    
Liveris will be named executive chairman of the combined company, while Breen will be CEO. The company will have dual headquarters in Midland, Michigan, and Wilmington, Delaware, where they are currently based.
    
Advisory committees led by Breen and Liveris will be established for each of the spinoff companies.
    
The deal, which the companies expect to close in the second half of 2016, is sure to be scrutinized by antitrust regulators.
    
Senate Judiciary Committee Chairman Chuck Grassley, R-Iowa, said in a statement that the proposed merger "demands serious scrutiny."
    
"I'll be listening to Iowa farmers and consumers about any concerns they may have with this proposal, and the Judiciary Committee will be exercising its appropriate oversight function," Grassley said.
    
But Breen said that while consolidation in the agricultural industry is a "natural step," any ag-related divestitures are likely to be minimal.
    
"These are highly complementary businesses…. We don't see much real significant overlap here, which is pretty incredible," he said, adding that the combined ag business would be balanced between seeds and crop protection.
    
One motive for the merger is to cut costs. The companies said the deal should cut annual expenses by $3 billion. In addition, the companies announced separate restructuring steps.
    
DuPont announced a plan that is expected to reduce costs by $700 million in 2016 compared to this year. Employee and contractor layoffs will affect about 10 percent of the company's workforce. DuPont expects to record a pretax charge of about $780 million, with approximately $650 million of employee separation costs.
    
"The state is committed to supporting those affected by DuPont's cost cutting in Delaware," said Delaware Gov. Jack Markell.
    
Dow, meanwhile, said it is taking full ownership of Dow Corning, currently a 50-50 joint venture between Dow and Corning. Dow said the move is expected to generate more than $1 billion in additional adjusted earnings and increase its product offerings in the building and construction, consumer care, and automotive markets.
    
Under the terms of the merger, Dow shareholders will receive a fixed exchange ratio of one share of DowDuPont for each Dow share, and DuPont shareholders will receive a fixed exchange ratio of 1.282 shares in DowDuPont for each DuPont share. Dow and DuPont shareholders will own about 50 percent, respectively, of the combined company.
    
The proposed agriculture business would unite DuPont's and Dow's seed and crop protection businesses, which had combined pro forma 2014 revenue of about $19 billion.
    
The material science company would combine DuPont's performance materials segment with Dow's performance plastics, performance materials and chemicals, infrastructure solutions, and consumer solutions units, excluding its electronic materials business. Combined pro forma 2014 revenue for material science was about $51 billion.
    
The specialty products company would combine DuPont's nutrition and health, industrial biosciences, safety and protection, and electronics and communications segments with Dow's electronic materials business. Combined pro forma 2014 revenue for specialty products was approximately $13 billion.
    
The new company's board will have 16 directors, consisting of eight current DuPont directors and eight current Dow directors, and two independent co-lead directors.
    
_____
    
Associated Press Writer David Koenig in Dallas contributed to this report.