Warriors attack early, keep pressure on to advance to state semifinal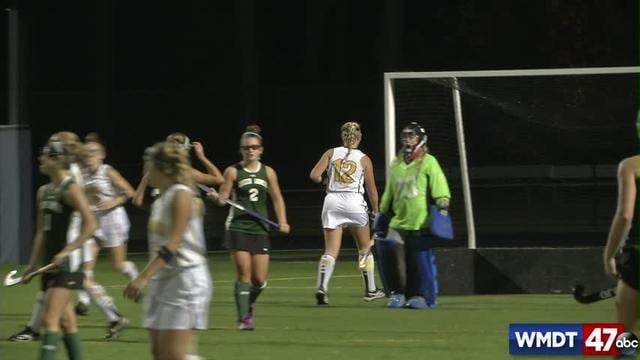 The Pocomoke Field Hockey team won their second consecutive 1A East regional final, this one in convincing fashion, defeating the Queen Anne's Lions 7-0, to advance to the 1A final four.
Lexi Butler paced the Warriors with four goals, and one assist on the night. Butler's first goal came with 20:47 to go in the first half off an assist by Peyton Becker. Butler returned the favor at 14:55 when she set Kasey Lee up with a pass right in front of the cage. Butler would strike one more time in the first half, with 18 seconds remaining, to give the Warriors a 3-0 lead at halftime.
In the second half, Butler would not let up. A little over three minutes in, she would blast a shot past keeper. Peyton Becker would score the next goal for the Warriors, followed by Butler's fourth and final goal of the night. McKenzie Mitchell's penalty stroke would give Pocomoke lucky number 7, while the defense preserved the shutout.
The Warriors move on to take on Manchester Valley on Wednesday, November 11th, at Paint Branch High School for a chance to play in the 1A state championship.