Salisbury PD, FBI investigating needle found in Halloween candy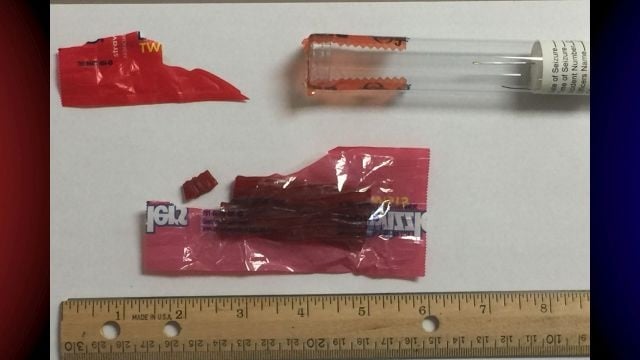 Police in Salisbury are now working with federal investigators after a needle was found in a piece of Halloween candy.
According to Salisbury PD, on Sunday, officers responded to Grant Avenue for a report that a child's Halloween candy was had a sewing needle in it. Police say the needle was found inside of a single piece of a Twizzler brand candy by a 15-year-old while they were eating it. The child was not hurt.
Reports say the candy's wrapper appeared to be intact.
The family apparently trick-or-treated in the areas of  Russell Avenue, Druid Hill Avenue, Riverside Drive, West College, Camden Avenue, Evergreen Avenue, and Monticello Avenue. Police say this appears to be an isolated incident within Wicomico County.
The Salisbury Police Department says they are working with the FBI on the investigation. The lot number for the candy is 701-86472-004.
Salisbury Police say they want to remind parents to check their children's candy, specifically Twizzlers, for foreign objects prior to consuming the candy, and to contact law enforcement if foreign objects are found.