47 ABC Exclusive: State's Attorney addresses controversial firing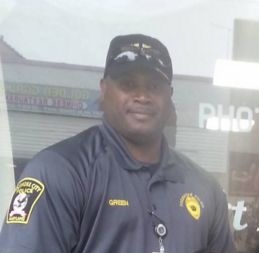 Former Pocomoke police officer, Franklin Savage, believes he was fired from his job on the force, on October 26th, for speaking out about racial discrimination. Savage turned down 47 ABC's request for an interview, both on and off-camera, but his lawyers sent a statement which reads "he was unjustifiably branded a troublemaker and subject to very serious racial discrimination and a hostile work environment".
(PHOTO: Franklin Savage, former Pocomoke police officer, accusing Wor. Co. State's Attorney. Beau Oglesby, of racism and retaliation for filing EEOC and Attorney Grievance complaints.  Photo courtesy: Pocomoke PD)
But the city manager say it's because he couldn't do his job. Ernie Crofoot, tells 47 ABC the city was obligated to terminate Savage's employment because he was reportedly unable to carry out a key duty of his job…testifying in court.
Crofoot claims that the Mayor received a letter from Worcester County State's Attorney, Beau Oglesby, stating that he had issues with Savage's credibility.
"Credibility issues ultimately have an impact, sometimes large, and sometimes small, on a person's ability to testify," explains Oglesby, who would not confirm he sent this letter. "So, if there is an issue…I'm not speaking about Frank Savage specifically – I'm talking in generalities…if there is an issue of truthfulness, of credibility, then I am obligated to disclose that to defense council. And that will ultimately determine how we decide to proceed with a case."
(PHOTO: Worcester County State's Attorney, Beau Oglesby, opens up to 47 ABC's Emily Lampa about allegations of racial discrimination made against him by, former Pocomoke city police officer, Franklin Savage)
Oglesby says Savage's integrity is questionable because of two complaints Savage submitted to the Maryland Attorney Grievance Commission.
The first complaint, submitted in July 2014, alleges that Oglesby used the "n-word" repeatedly in his presence "freely and without care".
Oglesby denies these accusations and believes the accounts of investigators and another attorney prove Savage's complaints are factually incorrect. Click here to see Part 1 of this report, which explains the alleged inaccuracies.
"If a person submits a report to me that I know is false," Oglesby tells 47 ABC's Emily Lampa, "well then, I know that they have either done a false report or an inaccurate report and in either respects those are things that are now known to me, that I am obligated to disclose to counsel."
But in his second letter to the MD Attorney Grievance Commission, about a month and a half after the first complaint, Savage wrote:
"State's Attorney Beau Oglesby is stating that I am no longer needed for any of my cases where I am the charging officer…
"Now it seems like State's Attorney Beau Oglesby is letting these individuals whom I have charged go free to commit more crimes…
"I feel very disrespected and offended that I came to court and State's Attorney Beau Oglesby could not even talk to me about my cases…
"All of these occurrences are forms of retaliation against me due to my recently filing a federal EEOC complaint against States Attorney Beau Oglesby."
"It's not true," Oglesby says in response to the allegations. "It's simply not true…He alleged that I had dismissed cases that were actually still pending. Because the defendants had failed to appear and there are outstanding bench warrants…So he's jumping to a conclusion and saying that a case is being handled differently, when it was actually still pending."
The Attorney Grievance Commission concluded their investigation November 2014. A letter from a staff attorney to Savage confirms the case was closed.
Despite this, the three EEOC complaints Savage filed against Oglesby, the Worcester County Criminal Enforcement Team, and Pocomoke City are still pending. According to the EEOC website, the filings are "considered confidential" until the agency completes their investigation.
Oglesby and a member of Savage's legal team both confirmed that the allegations in the Attorney Grievance and EEOC complaints are similar. The difference, we're told, is in the wording since the EEOC complaints have been amended since their initial filing in 2014. C. B'anca Glenn, an attorney at Wiley Rein LLP tells 37 ABC when Savage hired D.C. lawyer, Andrew McBride, to represent him in April 2015, the Wiley Rein law firm helped him to file the amended EEOC complaints.
The State's Attorney is just one of the alleged targets of these complaints. On October 27th, McBride gave 47 ABC's Julian Sadur a list of the alleged abuses reportedly committed by members of the Worcester County Criminal Enforcement unit while Savage was a member of the team from 2012 to 2014.
Savage claims members of the eight person unit subjected him to a hostile work environment and called him the "n-word". He says they apparently drove him to a place where they allegedly said, "this is where the Ku Klux Klan used to hang the n-word people". He asserts that a member of the team placed a dead animal on his car. And in another instance, he said a member of the team alleged placed a food stamp with president Obama's picture super imposed over it, on his desk.
"He never said anything to me. Never said anything to anyone in this office," admits Oglesby, when we asked if Savage ever approached him about the alleged racist activity.
Maryland State Police confirmed they did investigate Savage's claims and found that a state trooper on the Criminal Enforcement Team reportedly sent Savage a text message using the "n-word". A spokesperson for MSP tells 47 ABC investigators determined that it "violated policy" and took disciplinary action against the officer.
The spokesperson would not give details about the punishment but did confirm the trooper no longer works for the Worcester County Criminal Enforcement Unit.
We're also told MSP currently has no other open cases investigating the Pocomoke City Police Department.
Savage resigned from the Worcester County Criminal Enforcement Team in June 2014. And the next month he filed the EEOC complaints.
Between then and now, two other police officers also filed EEOC complaints against the City of Pocomoke – Lt. Lynell Green and Kelvin Sewell, who lost his job as chief of the Pocomoke police department this past June.
(PHOTO: Fmr. Pocomoke City Police Chief, Kelvin Sewell.)
"My lawyer said I was fired because I refused to fire the two African American officers who filed the EEOC complaint," explains Sewell in an interview after a community meeting at the New Macedonia Baptist Church in Pocomoke on Thursday, November 12. "So, to prove the case, they just terminated Franklin Savage's employment with the Pocomoke City police department."
(PHOTO: Lt. Lynell Green.  Photo Courtesy: Pocomoke City PD Facebook Page)
Lt. Green is still employed with the department, and we're told he still works in the capacity he did under Kelvin Sewell when he was police chief.
The City of Pocomoke has not officially released the reason for Sewell's firing. They did say that he was "not fired" because of race or EEOC complaints, and the reason for Sewell's termination will not come out until the Equal Employment Opportunity Commission finishes their investigation.
In terms of how long that might take, these are the details from the EEOC website:
"The agency has 180 days from the day you filed your complaint to finish its investigation. The investigation may be extended by another 180 days if new events are added to your complaint or if you file new complaints that must be added to your original complaint for investigation. You also have the right to agree to an extension of up to 90 days.
When the investigation is finished, the agency will give you two choices: either request a hearing before an EEOC Administrative Judge or ask the agency to issue a decision as to whether discrimination occurred.
If more than 180 days pass and the agency has not yet finished its investigation, you can wait for the agency to complete its investigation, ask for a hearing, or file a lawsuit in federal district court. Once you ask for a hearing, the complaint will be handled by an EEOC Administrative Judge."
Prior to Savage's termination, his attorney claims that Savage was quote "bucked down to patrolman, another form of retaliation" for filing the EEOC complaint.
But City Manager Crofoot says Savage could not have been demoted from detective to patrolman since he never was a detective and the department does not give any officers the title of detective. He also tells 47 ABC Savage never suffered a loss of pay while he was employed.
However in terms of Savage's termination, Crofoot says it's clear why Savage was fired. They couldn't continue to employ him if he couldn't be used in court to testify.
This is the full official statement from C. B'anca Glenn of Wiley Rein LLP, on how the legal team plans to proceed with the cases of the three Pocomoke city police officers:
"We believe that Franklin Savage's termination is an act of further retaliation for his EEOC complaints. During Franklin's time in the Pocomoke City Police Department and the Worcester County Task Force, he was unjustifiably branded a troublemaker and subject to very serious racial discrimination and a hostile work environment. Franklin has been the subject of relentless retaliation by Pocomoke City, members of the Task Force, and Worcester County State's Attorney, Beau Oglesby. Not only are their retaliatory actions shocking and repulsive, they are also clear and express violations of federal civil rights laws.
We stand behind Franklin, Kelvin Sewell, and Lynell Green and are fully committed to righting these wrongs. As the facts develop, we will continue to evaluate our legal options, including the possibility of filing a civil action in federal court."
"There's a lot of improprieties on the city's part," Sewell tells 47 ABC, "and that will come out hopefully when we get into federal court…If it makes it that far, it will all be resolved in our favor."
In terms of Beau Oglesby, and why he chose to speak out now, he said this:
"I worry for my family. I worry for my children who can google my name and find unflattering things about me that are untrue."
"I signed up for this. I'm the state's attorney because I want to be the state's attorney. And with that, my family understands that there are certain things that are outside of your control."
"I wanted, and want, and continue to love my job, to be state's attorney. Along with that is criticism, critiques, kudos for a job well done. Or if someone disagrees with the job I did…I welcome that. That's a good checks and balances to the things that I'm doing. I want to make sure that I am satisfying not only my obligations under oath, but also the constituents and the community that I represent.
"But when the criticism is untrue, when you are unfairly characterized as something that is not supported at all by the real facts, as a person it's important for me to come forward. And I expect that people who were paying attention and have heard these allegations, I hope that they're satisfied with my response. Because I have done nothing more, did nothing more than my job. Which is to prepare a case for prosecution in the best way I know how."