Raising breast cancer awareness, one glass at a time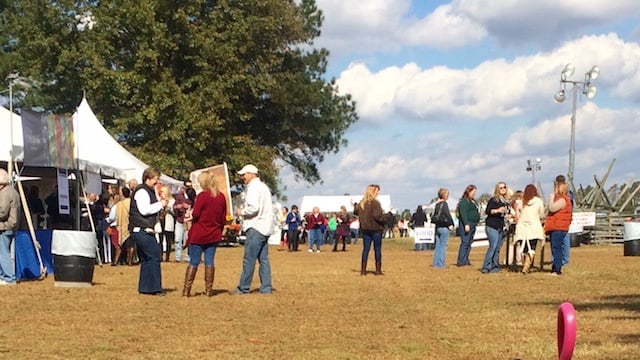 Pink was the color of the day Saturday at the annual Wicomico County Autumn Wine Festival in Salisbury,  but not for the rosé. Rather, for the first time ever, the county is partnering up with a local non-profit Women for Women.
Women for Women raises breast cancer awareness across Maryland's Eastern Shore. Their mission, to provide awareness, support and education to those affected by breast cancer.
At the event, Wicomico County Executive Bob Culver, spoke highly about the addition of the organization to the wine festival. 
"We have a partner in the Women Supporting Women's group and we're very excited about that, what a way here in October to celebrate breast cancer awareness," Culver said. 
Event organizers say the reason they brought on Women supporting Women this year was to help raise local breast cancer awareness within the county.
At the festival they're achieving that by having pink ribbons on a variety of things including the wine tasting glasses, vendor's tents and more. 
"For awareness it's usually promoting women getting mammograms and doing self breast exams and paying attention to their breasts and men, men do get breast cancer," said Women for Women for Women executive director Sue Revelle.
Although the message on breast cancer isn't anything new, Revelle said a large population are still unaware of it.      
Revelle recommends both men and women regularly check 
their breasts for irregularities, if they find them,  to go see a doctor
Since Women for Women is a non-profit, the festival provides an opportunity to raise funds.     
$1 allows you to post ribbon in honor of some one on the honor board, or allows you to hang a clean bra to raise awareness.
$5, a chance to play bra pong to win a prize.
Along with the donation, you'll get a chance to speak with a Women supporting Women volunteer, who can help you can more information on breast cancer.