Harvick stays alive in the chase; Johnson eliminated in Dover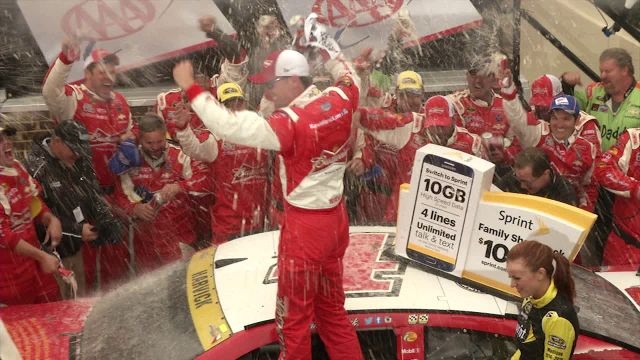 For some drivers having already been eliminated from the chase for the Sprint Cup, Dover was just another stop on the schedule.
But for others looking to make a statement, or better yet, advance in the Cup playoffs, the AAA 400 meant everything.
With Jimmy Johnson reaching a career milestone with his 500th career start, and Jeff Gordon racing at the Monster Mile for the final time, the story lines were plentiful at Sunday's Triple-A 400.
Heading into the race, Matt Kenseth and Denny Hamlin clinched spots in the next round of the cup playoffs.
Meaning only 10 spots in the 12-driver Contender Round were up for grabs.
"We'll see what happens. There's still two more rounds to figure out who's going to Homestead.", Said Kyle Busch.
Among those on the bubble heading into the race were Kevin Harvick, who before Sunday was fifteenth in the chase standings.
Finding himself in a "win and you're in" scenario, Harvick turned in an impressive performance.
Running in the top spot for 355 laps, he led the field in laps led on his way to victory lane.
"For us we all knew what we had to do and it was no different preparation then what we would do on a weekly basis. all in all it was business as usual."
While it was an exciting day for Harvick, it was a disappointing one for Jimmie Johnson.
A 10-time Dover winner, he entered 5th in the standings, nearly guaranteeing himself a spot in the next round.
However, unexpected issues with his car ruled out the possibilities of him advancing.
His Hendrick Motorsports teammate, Dale Earnhardt Jr., did the opposite.
Sitting in the 11th spot, Junior needed a solid finish to move on.
"We had a pretty good car. I thought we were about the third to fifth best car, and we just fought all day for track position, and we passed a lot of cars and had a lot of fun.", Said Earnhardt Jr.
Dover is now in their rear view and Kyle Busch, Matt Kenseth, Joey Logano, Kevin Harvick, Dale Earnhardt Jr., Kurt Busch, Carl Edwards, Brad Keselowski, Martin Truex Jr., Denny Hamilin, Jeff Gordon, and Ryan Newman are one step closer to that coveted sprint cup.
Here are the official results from Sunday's AAA 400:
Kevin Harvick
Kyle Busch
Dale Earnhardt Jr.
Jamie McMurray
Aric Almirola
Kasey Kahne
Matt Kenseth
Ricky Stenhouse Jr.
Kyle Larson
Joey Logano
Martin Truex Jr.
Jeff Gordon
Greg Biffle
Clint Bowyer
Carl Edwards
Brad Keselowski
Kurt Busch
Denny Hamlin
Ryan Newman
Sam Hornish Jr.
Danica Patrick
David Ragan
Austin Dillon
Casey Mears
Paul Menard
Tony Stewart
Justin Allagaier
Cole Whitt
AJ Allmendinger
David Gilliland
Trevor Bayne
Alex Bowman
Reed Sorenson
Matt DiBendetto
J.J. Yeley
John Wise
Michael Annett
Alex Kennedy
Timmy Hill
Landon Cassill
Jimmie Johnson
Brett Moffitt
Jeb Burton
Only seven races remain until we see another Sprint Cup Champion crowned.
Next Saturday, the Bank of America 500 kicks off the Contender round in Charlotte.