Saying goodbye to summer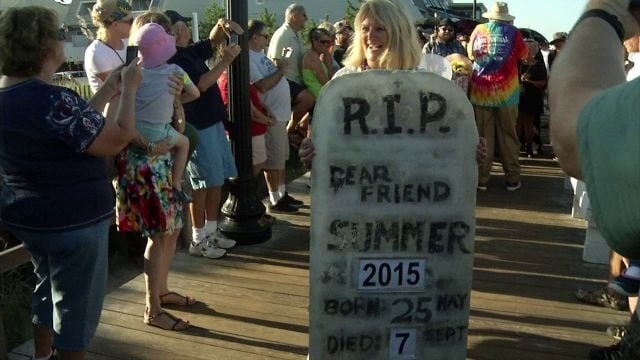 Although the official end of summer isn't for a few weeks, the town of Bethany Beach said their farewell to the Summer of 2015 with a funeral Monday, a jazz funeral.
Jazz Funerals are normally only found in places like New Orleans, but 30 years ago Bethany Beach decided to bring them to Delaware as a way to say good bye to summer.
"When the kids go back to school in Bethany Beach then it kind of empties out around here. You might say it returns to quiet resort the way it always has been and so that's why we really have the jazz funeral," said Paul Jankovic, executive director and chairman of the Jazz Festival.
Since this year also marks the 10 year anniversary of Hurricane Katrina, Jankovic said they chose to donate the proceeds of their silent auction this year to the American Red Cross.
The funeral procession for Miss Summer, a mannequin dressed up in summer clothes in a casket, started at the north end of the boardwalk. The procession finished at the stage in downtown Bethany, where patrons were treated to a free jazz concert and an opportunity to say good bye to summer.