People come from far and wide to catch a glimpse of Pope Francis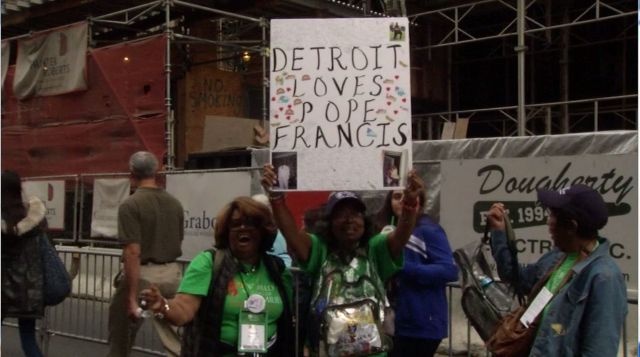 From near and far large crowds have assembled on major roadways.
Tens of thousands of people will be flocking to the heart of Philadelphia just to get a glimpse of Pope Francis.
People as far as Toledo, New Mexico, and California have been waiting in lines like these just to see one of the worlds most polarizing figures.
"As soon as you see this pope or any pope you're seeing Christ," says Sylvia Flores from Orlando.
"The pope is the equivalent to the Beyoncé of catholic religion religion," Cassie Chelbowski.
Roma sterling and Chris Gammon from Syracuse have been planning this trip since April. They say it isn't just about seeing the pope it's about the aura surrounding Pope Francis.
"We've been staying in a camp with no electricity we've been staying in a cabin with no electricity no lights no facility for the bathroom you have to walk a half a mile to the bathroom".
But for these two women the sacrifice is well worth it.
" If we get to see him at all it doesn't matter it's the spiritual feeling that we are going to endeavor," says Gammon, "It makes me more careful butt it makes me realize that everybody no matter what is God's Child".
In comparisons of Pope Francis to his predecessors folks told me that this pope is more humble and inspires them to be better people.