Faith may be the new weapon in fighting drug addiction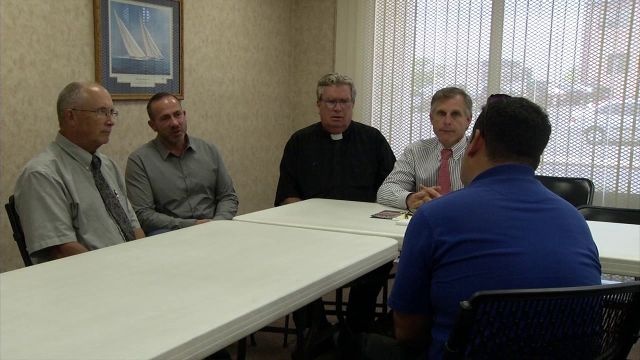 In Maryland, faith is being brought the front-lines in the battle against drug addiction.
Dr. Michael Finegan, a member of Governor Hogan's Heroin and Opioid Emergency Task Force, is calling on local church leaders to do their part.
"Church and church concepts provide hope to the hopeless, it brings strength." And "Faith-based communities try and build families. Faith-based communities try to facilitate humility, acceptance.", said Dr. Finegan.
The opportunity to help out is something that Pastor Bryan Lloyd of the Sonrise Church is looking forward to, "People are going to call us because there's no judgement typically felt. They know that they'll be cared for and loved. So for us to play a role in this initiative is very exciting."
Church involvement is something Lieutenant Governor Boyd Rutherford, who heads the task force, is stressing.
Doctor Fingegan agrees.
He says the combination of behavioral therapy, drug treatment, and religious support is at the core of this latest initiative, with churches playing a major role because of the influence they can have on their communities and the powerful messages they impart.
"That voice spreads wide, because when you're meeting with a congregation and they hear these things that are going on in our community and these resources like 12-step programs, 211 that we can use when we're in need. They're going to spread that to their neighborhoods and that way it's going to get the message out." Said Lloyd.
Spreading the word about treatment is only part of the plan. It's also about spreading the word about a faith-based value-system.
"The more that an individual can utilize a value-system to strengthen their resolve to overcome a misery or challenging situation, the better they are." Said Dr. Finegan.
Those values are already being taught by the church leaders.
"The whole idea of redemption and words that we preach Sunday after Sunday, is at the heart of any recovery.""There's always that chance of forgiveness, and there's always that hope.", Father Chris LaBarge of St. Francis De Sales in Salisbury, tells 47 ABC.
If you or someone you know is looking for help with a drug addiction and would like the support of a local church, both Father Chris LaBarge and Pastor Bryan Lloyd say to just reach out and give them a call.