Caesar Rodney cant contain Salesianum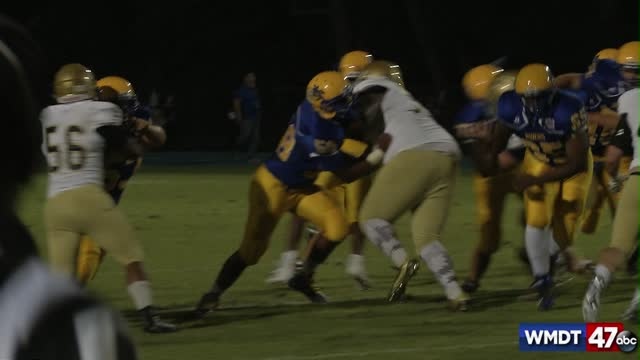 The Caesar Rodney football team fell to 0-2, with their second consecutive home loss, dropping the latest one to Salesianum 45-20 on Friday night.
CR would get a bit of luck in the first quarter. When their opening drive stalled, their punt on fourth down would hit a Salesianum player and the Riders would recover. When their second drive stalled, Salesianum would capitalize in a hurry. In their first offensive play from scrimmage, running back Colby a Reeder would take a handoff at his own 4-yard line, and take it 96 yards for the first score of the game.
The Riders would respond with a nice touchdown drive, with senior QB Brian Lewis plunging in the endzone from a yard out. But heavy doses of Reeder would be the difference. The senior would score a a couple more times before the half to push Salesianum's lead to 25-12.
Back to back to back touchdowns to start the second half would bring on the running clock, with the teams trading touchdowns in garbage time.
CR travels to Glen Mills (Pa.) next Friday for their only out-of-state matchup.