UPDATE: Two vehicle crash sends four to hospital in Bridgeville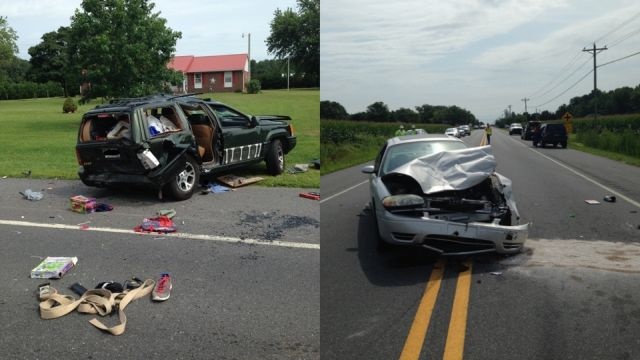 State Police have released new details, after a two vehicle crash in Bridgeville sent four people to area hospitals.
Delaware State Police say on Thursday around 10:20 AM, 32-year-old John Kosco, of Frankford, was driving a 1996 Jeep Grand Cherokee westbound on Seashore Highway.
According to the report, as Kosco slowed to a stop for road construction, 25-year-old Kadeem Hill, of Bridgeville, who was driving a 2006 Ford Taurus behind Kosco, didn't stop, and hit the back of the Jeep. Police say the impact caused the Jeep to flip end over end, eventually stopping in the upright position.
Kosco, along with his 6 and 8-year-old sons were taken from the scene by EMS to Nanticoke Memorial Hospital, where there were treated for non-life threatening injuries. They were all reportedly properly retrained.
Hill was also apparently wearing his seat belt, but was air-lifted from the scene to Christiana Medical Center where he was reportedly admitted in stable condition.
Investigators say they are still looking into the crash, and that charges may be forthcoming. Seashore Highway was closed between Wilson Hill Road and Coverdale Road for about two and a half hours, while the collision was investigated and cleared.