42nd annual WMO brings major economic boost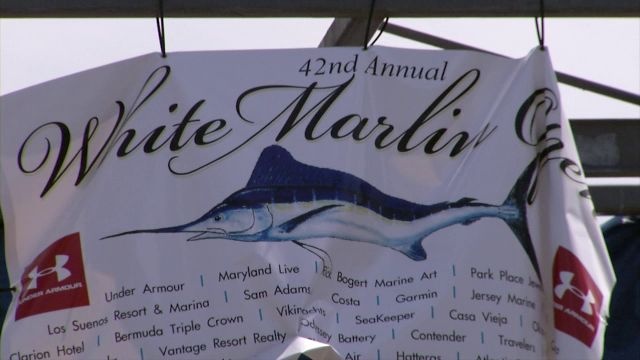 Wednesday marked day three of the 42nd annual White Marlin Open ("WMO"). With 307 boats signed up to hit the water this year, officials say the summertime favorite raked in upwards of 320,000 dollars in entry fees alone.
According to director Jim Motsko, it's not just prize money that's up for grabs.
"We generate probably an excess of 18 to 20 million dollars in this one week just for Worcester county." Says Motsko.
Increased revenue extend to restaurants like the Reel Inn. They've been in business for about 23 years but for server Brittany Workman, it's her first.   
Workman tells 47 ABC, everything revolves around the White Marlin Open. When we spoke with her on Wednesday around 11:00 a.m., business was calm but she say the non-stop rush starts at 2:00 p.m. and lasts until 10:00 p.m.
"It's been difficult to keep up, but everybody for the most part is pretty understanding. They know that we're a pretty small restaurant but that's what they like about it." She says.
Meanwhile, some vendors we spoke to say they've seen a difference between this year's sales and last year's.
Roy and Rebecca Taylor own R Mended Metals, which specializes in handcrafted stainless steel art. The couple says they traveled from North Carolina specifically for the event.
"Last year was a little stronger right out of the gate, and this year it was a little more sluggish right out of the gate." Says Roy. "But now things are picking up, so it appears that it's going to be stronger on the tail-end."
Motsko says like fishing, business sometimes depends on luck.
"They all can't be lucky but good luck to them too, because we've a lot of fishing days left." He says, "Wednesday and Thursday are going to be our big days."
As of Wednesday, a 94-pound white marlin was at the top of the leadership chart.
The tournament picks back up Thursday with fishing days ending on Friday. According to the WMO website, the awards ceremony expected to be held on Saturday at the Clarion Hotel at 4:00 p.m.
For more information on the 2015 tournament, click here.