UPDATE: Four rescued from burning home overnight in Salisbury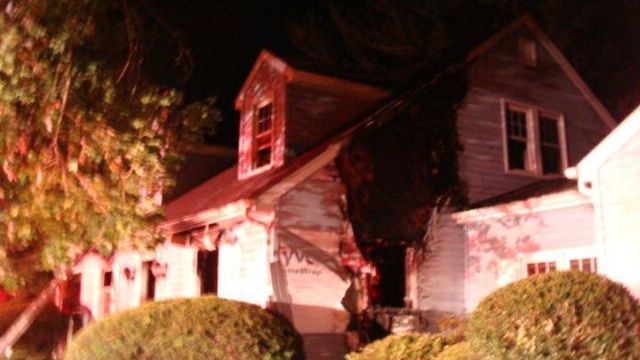 The Salisbury Fire Department reportedly responded to a house fire on Sylvia Street in Salisbury, early Friday morning, just before 1:30 AM.
According to reports, when fire officials got called to the home, they were getting information that people may be trapped inside. A neighbor reportedly called 911 about the blaze.
Upon arrival, they reportedly found one woman on the roof of the Cape Cod style home, with heavy flames and smoke showing. Officials say one woman was being helped down a ladder brought over by a civilian, but firefighters reportedly took over.
The rescued woman apparently alerted responders to a 2-year-old boy who was trapped inside a second floor bedroom. Crews say they made their way to the roof of the dormer of his bedroom, broke through the window, and pulled the boy from the burning structure.
According to the report, firefighters then broke down the front door of the home, and worked to put out the flames. During a search, they found an unresponsive dog, who was pulled out, and given oxygen through a specialized oxygen mask. The dog reportedly recovered.
A second child, of an unspecified age, reportedly escaped out the back through a window. Officials are saying the hallway to one of the children's bedrooms was completely charred, and they believe a closed door had a lot to do with their survival. There were reportedly also working smoke alarms inside of the home, and quick acting neighbors which rescuers credit as well.
In all, two women, two children, and the dog were rescued from the home. Officials tell 47 ABC that one of the mothers, and one children were visiting the house.
All human occupants were reportedly treated at Peninsula Regional Medical Center, and we're told, are doing well. They reportedly all suffered with smoke inhalation, and are undergoing treatment.
The Maryland State Fire Marshal's Office says their investigators found that the flames started with-in a multi-plug surge protector that was being used to power the living room entertainment system and a window unit air-conditioner.
Damages are estimated to total $120,000.
47 ABC's Jobina Fortson will have more on this story at 6:00 PM. Be sure to tune in.
47 ABC previous reportedly that the fire happened on Greenmount Avenue, that has since been corrected to Sylvia Street, as per the Maryland State Fire Marshal's Office report.