11 arrested during gang and drug investigation in Dover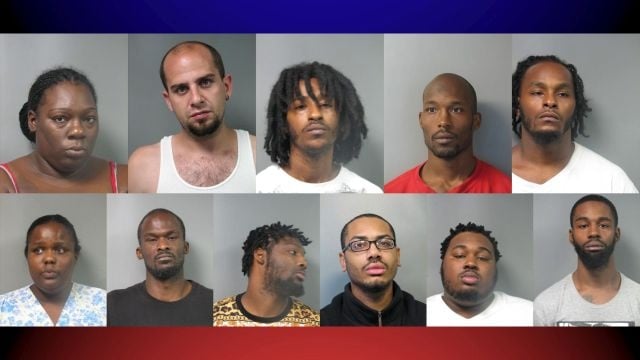 Police in Dover say they arrested 11 people, during a gang, drug, and gun investigation.
Dover Police say on Thursday, their Drugs, Vice, and Organized Crime Unit wrapped up and investigation into gang, drug, and gun activity in the Capital Green development, that has started back in May of 2015. That investigation reportedly found that members of the Bloods Street Gang were using several homes within Capital Green to deal drug, and stash firearms.
On Thursday, Dover Police Department with help by the Delaware State Police, Milford Police, Smyrna Police, DEA, ATF, US Marshal's Task Force, and Delaware Probation and Parole, they executed three search warrants, while a Probation and Parole Safe Streets team conducting multiple probation checks and fugitive operations.
Authorities report that 11 people were arrested, and 171.1 grams of marijuana, 50 bags (.9 grams) of heroin, 75.6 grams of PCP, $1,196.00 in cash of suspected drug proceeds, 12 gauge shotgun, and 4 handguns; two of which were reported stolen, was seized.
Those arrested include:
Anteaza Vann, 24, of Dover
Charges: Possession of Weapon with removed serial number, Receiving Stolen Firearm (x2)
Bond: $10,000 Unsecured
Quavaughn Williams, 22, of Dover
Charges: Possession with intent to deliver marijuana, Possession of drug paraphernalia
Bond: $5,500 Unsecured
Matthew Hill, 26, of Dover
Charges: Violation of Probation
Bond: Committed to JTVCC ($1,500 secured)
Kenneth Fisher, 20, of Milford
Charges: Possession of Firearm/Ammo by Person prohibited (x2)
Bond: $6,000 Secured (JTVCC)
Joseph Carter, 41, of Dover
Charges: Violation of Probation
Bond: $85,000 Cash (JTVCC)
Jalisa Christmas, 25, of Dover
Charges:Possession of PCP (Tier 5 Qty), Possession with intent to deliver PCP, Possession with intent to deliver marijuana, Possession with intent to deliver heroin, Conspiracy 2nd Degree, Possession of Drug Paraphernalia
Bond: $82,500 CASH (JTVCC)
Isaac Montague, 27, address not available
Charges: Possession of Deadly Weapon by person possessing controlled substance (x2), Possession of Firearm during commission of felony, Possession of firearm/ammo by person prohibited (x5), Possession with intent to deliver marijuana, Possession of weapon with removed serial number, Receiving Stolen Firearm (x2), Tampering with physical evidence, Endangering the welfare of a child, Resisting Arrest, Possession of Drug Paraphernalia
Bond: $70,000 secured (JTVCC)
Charles Johnson, 27, of Dover
Charges: Capias-Violation of Probation
Bond: Released
Shon Caldwell, 26, of Cheswold, DE
Charges: Possession of PCP (Tier 5 Qty), Possession with intent to deliver PCP, Possession with intent to deliver marijuana, Possession with intent to deliver heroin, Conspiracy 2nd Degree, Possession of Drug Paraphernalia
Bond: $82,500 CASH (JTVCC)
Anthony Winberry, 28, of Seaford
Charges: Capias-Fail to Appear
Bond: Committed to JTVCC (no bond info available)
Antonie Montague, 29, of Harrington
Charges: Possession of Marijuana, Possession of Heroin
Bond: no bond info available