May 2015: Warmer & Drier than Normal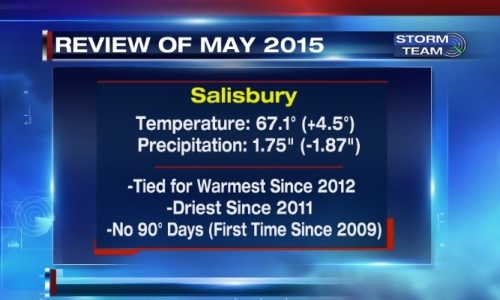 Now that the month of May is over, it's time to look back at how the weather was this past month in Salisbury.
May 2015 ended with a monthly temperature of 67.1 degrees which was 4.5 degrees above average. May of 2014 was exactly the same. The month of May has been above average in terms of temperature for the past couple years, and it hasn't been this warm since 2012.
Precipitation ended up being well below average with nearly a 2 inch deficit.
Even though temperatures were well above average, the interesting thing is that there wasn't a single 90 degree day recorded at the Salisbury airport. That hasn't happened since May of 2009. However, a few cities on Delmarva did hit 90 this month including Easton and Dover.