Local teen shares Scoliosis story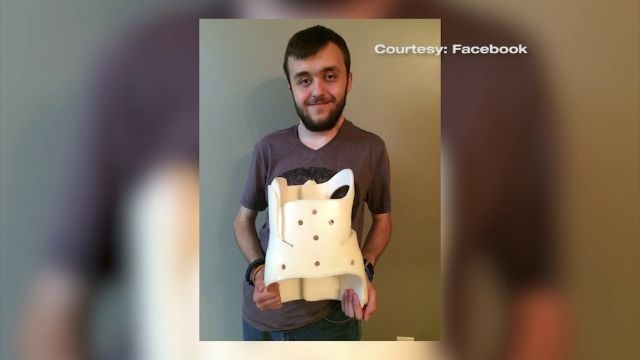 With summer just around the corner, it's time to break out the swim suits and tank tops. But for some dealing with scoliosis, it's often not that simple. Wearing a back brace 24 hours a day can be tough, but Danny Lockhart is no stranger to it.
Danny is your average 18 year old. He goes to school at Chesapeake Community College and he likes to tinker with anything electronic, but he also suffers from scoliosis. Diagnosed at just 3 years old, he sported his first brace throughout elementary school but eventually it stopped working. Danny had an S shaped back and his condition was compressing his lungs.
47 ABC spoke with Danny and he tells us, "They told me I wouldn't live past 40."
Just 3 years ago, doctors took drastic action, a major surgery to realign his spinal column. It was a 12 hour surgery, but in that time, something went wrong. Doctors accidentally dislocated the C1 C2 area of his neck and didn't know until three months later after Danny complained about the pain.
Danny tells 47 ABC, "Finally they did a scan and that very night they called us back that we needed to get to the hospital immediately."
Danny had multiple neck surgeries and also had a halo vest drilled into head with weights attached to it to help stabilize his neck.
Danny tells 47 ABC, "Moving isn't the problem but some days I get really sore and a few days my back gets sore. I have to do exercises and it still hurts more than a few times."
From check-ups to major procedures, he's been in and out of the hospital more times than he can remember. At one point, soon after his neck surgeries, Danny was granted a wish by the Make-A-Wish Foundation. He got to meet radio personality JJ Roth and even co-hosted a radio show with him on his 16th birthday. Danny also enjoyed a week-long vacation in Ocean City, but that was just the beginning for Danny and wishes.
In the hospital he befriended countless other kids who suffered all sorts of afflictions. He is now holding an annual walk to raise money for the Make-A-Wish foundation to help other kids who have life-threatening medical conditions.
Danny tells 47 ABC, "I just want to help other people and get through anything I had to go through or possibly worse. Eventually it gets better so I would say just keep going."