47 ABC's Emily Lampa flies with US Navy Blue Angels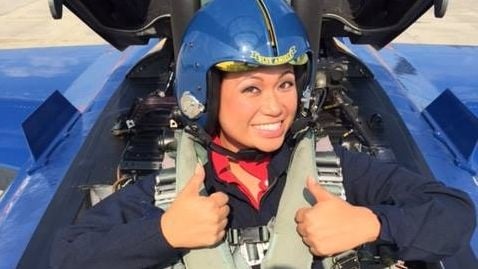 47 ABC's Emily Lampa flies with the US Navy Blue Angels in a VIP flight leading up to the Ocean City Air Show. The U.S. Navy Blue Angels will be headlining with the Breitling Jet Team from France and the F-22 Raptor Demo team.
The flight took off from NASA Wallops Island Flight Facility, yesterday afternoon.
Emily, was one of three locals invited to ride on Tuesday.  Brandy Sherrer, Director of Executive Events at Under Armour, flew first.  Jeff Merritt, of Operation We Care, took the second flight.  Emily Lampa had the last VIP ride of the day.
U.S. Blue Angels Petty Officer 1st Class, Eli Lang, briefed the group on the flight procedures and protocols. And CAPT. Jeff Kuss took them on their flight, which includes a number of the maneuvers the team plans to perform at the Air Show on June 13th & 14th.
The next media opportunity to meet with the Blue Angels, Breitling, and F-22 Raptor Teams will be this Thursday. Besides practicing on Friday, members of the Blue Angels team will be making appearances at Stephen Decatur High School and Believe in Tomorrow House by the Sea.