Update: Delmar boy battling rare disease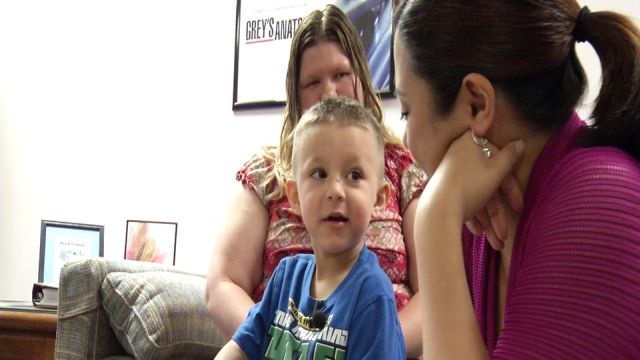 47 ABC has been following the story of Gavin Bender of Delmar for about a year now.
Gavin was three years old when he and his family first found out he suffers from Eosinophilic Esophagitis. His allergies trigger white blood cell buildup in his esophagus which can lead to difficulty swallowing or choking.
"It was actually killing him," explains his mom, Rebecca Bender. "The more (milk) that he would drink, the sicker he would get. And it's done a lot of damage to his esophagus.
"There's times he'll chew food up and he can't swallow it. For days, he'd just chew food up and spit it out."
Rebecca tells 47 ABC, each week, they travel from their home in Delmar to A.I. Dupont Hospital in Wilmington for checkups. "They now believe that the disease is causing an inflammation in his brain, which is causing a bi-polar ADHD behavior. So there are days where he's just out of control the whole day."
And every six weeks, Gavin has a scoping procedure, to evaluate the damage to his esophagus. Now there is the possibility he might have to have surgery in July.
Despite this recent news, Rebecca is focused on Gavin's improvements.
"It's good. He's gained a lot of weight," Rebecca tells 47 ABC's Emily Lampa. "But sad, because now he knows things. Medications he does like to take. He doesn't understand why he can't eat foods everybody else eats."
Gavin stopped eating solid foods for a year. He drinks a medical formula instead. And now they're slowly reintroducing him to foods.
"Now we know chicken and potatoes are safe foods," says his mom. "That's it."
But Gavin's disease is triggered, not just by food, but also indoor and outdoor allergens. Rebecca says she tries to make him wear a mask if he's outside, but it's not easy.
She also admits it's hard to see her son suffer. Besides his internal health problems, Gavin also has scabs and scars all over his body from his allergies. And Rebecca says they're often met with misunderstanding.
Compounding her concerns for her son, the cost for Gavin's care.
"With insurance," Rebecca explains, "with the new regulations, lots of his medications aren't covered or approved, because they're an adult dose. And also there are tests that aren't being covered. We have medical bills piling up."
There is a fundraiser for Gavin Bender, on Saturday June 6th, at Melson UMC Community Hall: 32705 Melson Road, Delmar, MD 21875.
Doors open at 5pm. The Auction starts at 6pm.
It's a quarter auction and they're in the process of collecting items that can be auctioned off at the event.
If you would like to donate to this event, or purchase tickets, call 302-841-0102 or 302-259-2028.