Hancock's Walk-off Sends Bennett To 3rd Round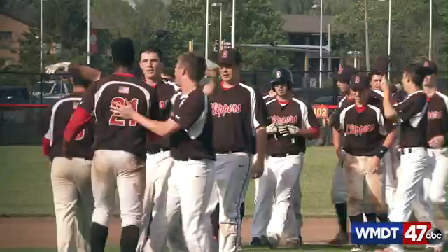 The James M. Bennett baseball team is headed to the 3rd round of the state tournament after Devynn Hancock capped off a 3 run 7th inning with a walk-off to center to defeat Northern 7-6. The Clippers will now play Stephen Decatur on Wednesday,
The Clippers would fall behind early after an RBI fielders choice that scored Connor Graham in the 5th would push the Patriots lead to 6-4. It looked like the lead would hold after Northern's pitcher Ryan Potts would made quick work the Clippers line up in the bottom of the 5th and 6th inning. Caleb Taylor would do his part for the Clippers, completely stopping Patriots bats and buying time for Bennett's own to get going. They would head to the bottom of the 7th down 6-4, and were down to their final 3 outs of the season.
And then it happened.
Joey Geary started things off with a single into right. That was followed by a slow dribbler to right that would find the hole for another single by Charlie Kerrigan. Geary would advance to the 3rd on the play, and bring to the plate the big bat of Michael Jean-Charles. To everyone's surprises, the senior center fielder laid down the bunt, and got up the line in a hurry, drawing a wild throw from Potts that would sail over the first baseman's head, and find the fence. Both Kerrigan and Geary would score on the play to tie up the game, and Jean-Charles would get all the way to 3rd. That brought Devynn Hancock to the plate, who on the first pitch he saw, ropes a walk-off to dead center. The Clippers would take the game 7-6 the final