Pohanka donates new car to Baby Mason's dad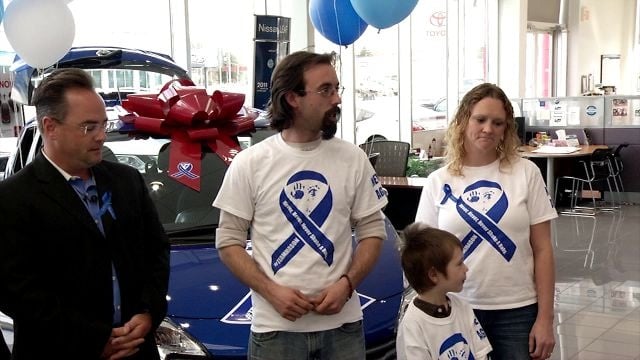 Jeremy Sennhauser's son Mason was once a happy, healthy seventeen month old, but now he's an apparent victim of shaken baby syndrome.
Sennhauser's aunt Angel Calloway tells 47 ABC, "I don't want no family to ever have to go through what we've been through."
He says in early March Mason's mother and her boyfriend were taking care of the baby when Mason suffered a stroke and was taken to the hospital.
Sennhauser also tells 47 ABC, "He was covered with bruises, I mean, everywhere front, back, arms, legs everything. I knew right then and there it was a stroke."
After multiple CAT scans and treatments doctors determined the cause of his injuries was violent shaking.
Sennhauser tells 47 ABC, "A couple of days later they did an eye test on him and they showed the proof that they were looking for that he was shaken, it was intentional trauma."
Doctors were unsure if Mason would even survive but now he's getting better by the day.
Sennhauser tells 47 ABC, "He's getting back to his old self, he hasn't lost his personality he's doing better every day he's meeting his goals he's talking again its like he's been born all over again its a little bit of a struggle but he's doing it he's surviving."
Calloway tells 47 ABC, "Mason is a trooper and he's a hero to a lot of people."
He's a hero that a lot of people want to help. With unreliable transportation for the nearly 100 mile drive from Delmar to AI DuPont Hospital in Wilmington, Sennhauser posted on Facebook that he was looking for a new car so he could be with Mason. Pohanka Nissan got the message, and got in touch. They're giving him a brand new car.
Sennhauser tells 47 ABC, "My family's been here since day 1 you know they've helped me get up there back and forth and before this, my car would've never made it to Dover let alone Wilmington."
Now he can in his brand new family car.
If you would like to donate to baby Mason and his family you may do so by visiting their Go Fund Me account which can be found here: http://www.gofundme.com/babymasonfighter
You may also donate by visiting M&T Bank in Delmar.