Funding crisis sheds light on county frustrations towards Sussex Tech HS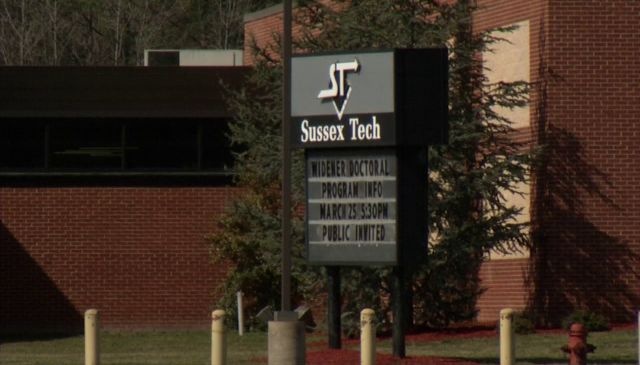 Complaints about Sussex Technical High School are not new to Delaware legislators. However, the school's latest request to more than double county property taxes is shedding new light on why many districts are fed up.
"Sussex Tech is still trying to play by a different set of rules than anyone else," says Dr. Donald Hattier, an Indian River School Board member. "We're all tired of it, we're all tired of their approach."
"All the districts in the county have been complaining for a lot of different reasons," says Representative Pete Schwartzkopf (D-Rehoboth).
Among their reasons, the schools' "lottery system" for accepting students. Sussex Tech School Board Members say they use a computerized system that selects at random from a pool of applicants. Additionally, as of last year, they dropped the requirement for a 70 percent grade average.
However, Schwartzkopf points to recent numbers that show the school has the lowest percentage of special education students in the county at 6.7 percent. If there is a discipline problem with a student, the high school can also kick the student out, which would usually send the student back to their public school.
"They get some of the better students, they don't have to handle disciplinary problems," says Representative Schwartzkopf. "They're a very good school, but every other school in this county would be a very good school and superior school as well if they played by the same rules."
As a vocational school, Sussex Tech does not have to play by the same rules as the eight other public schools across the county.
However, Dr. Hattier and Schwartzkopf feel that Sussex Tech has drifted from that mandate by wedging college prep work into a curriculum that's supposed to focus on preparing students for the workforce.
Former Sussex Tech student, Josh Lynch, says that means the school is simply keeping up with the times just like every other school in the county.
"It's education in the modern day world, what you need to do to aptly prepare people for life," he says. " It's really the reason that I'm doing what I'm doing today."
Lynch started working in television at 47 ABC right after graduating from Sussex Tech. While he is not disputing the concern for taxpayers, he is hoping the county does not write off the school completely.
"That would be a terrible injustice, not only to students but in the broader scope to the state of Delaware."
Sussex County's General Assembly did meet again on Tuesday to address the funding crisis. They tell 47 ABC that progress is being made, but all options are still on the table, and nothing has been drafted just yet.
Legislators say they do expect action from the General Assembly before the session is over on June 30th.