Somerset Co. Public Schools to appear on FOX special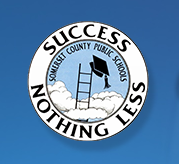 One local school will be featured nationwide Saturday when they appear on the FOX Business Network.
Somerset County Public Schools will be spotlighted on the "In View Educational Show" hosted by Larry King.
The county apparently ranks second highest in poverty statewide, just behind Baltimore City according to Superintendent Dr. Gaddis.
Dr. Gaddis says the topics addressed will include career and vocational education, along with duel enrollment. He says these, among other programs, are important because they present other opportunities to students aside from college.
"Just because you have an impoverished population or situation doesn't mean you can't grow." Says Dr. Gaddis. "It's all about what you believe and we've got great people with great students and no matter the barrier, you have to have that expectation up here."
Dr. Gaddis says one project they are working on is a potential 43-million dollar technical high school.
The program airs Saturday at 5 p.m. on the FOX Business Network.