Moran's Melodies rock Crab Cake Factory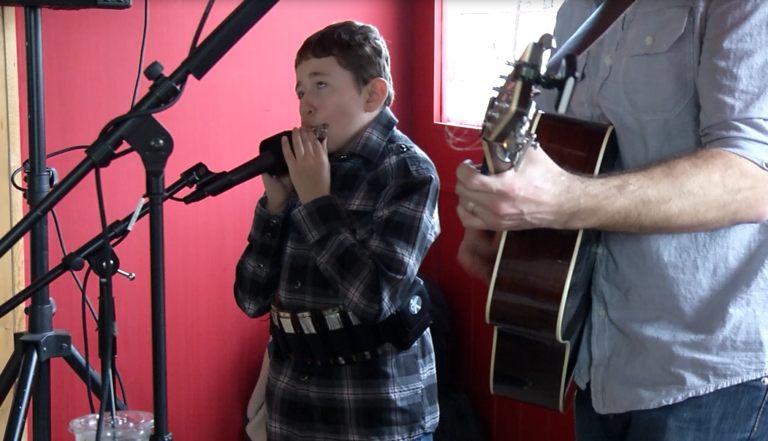 Michael Manescu, the bar manager at the Crab Cake Factory says, "I heard he's the second coming of Stevie Wonder."  
Manescu is talking about Cole Moran; the 12- year- old boy 47 ABC met Saturday.
He showed us that despite his blindness and cognitive disability, he can play the harmonica like a pro.
Johnny Brooks, the owner of the Crab Cake Factory planned a benefit concert for Cole. He wanted Cole to perform to earn money for more studio time and new harmonicas.
However, some thought the benefit wouldn't happen. Johnny's father Ron, who's been referred to as the patriarch of the crab cake factory tragically died Wednesday.
Manescu goes on, "He was very adamant about making sure this went on even with the passing of Mr. Ron."
Manescu says that's because Ron, who folks around the restaurant call "Mr.B" would have wanted it that way.
He says "Mr. B" always loved being around people. He apparently remembered everyone's name and we're told he loved encouraging youth, especially kids like Cole.
Sydney Ward, a family friend of the Morans says, "It's very heart warming. He's come a long way. His music is pretty much his whole life. It's done so much for him and his growth."
The energy at Crab Cake Factory was full of warmth while Cole was playing. He definitely warmed the hearts of some who really needed it after a difficult week of grief.
For anyone who would like to pay their respects to the Brooks family, the public is welcome at Fenwick Baptist Church tomorrow from 4 p.m. to 6 p.m. and Tuesday from 10 a.m. to 11 a.m.