Long's Game Winner Shocks Top Seeded Hampton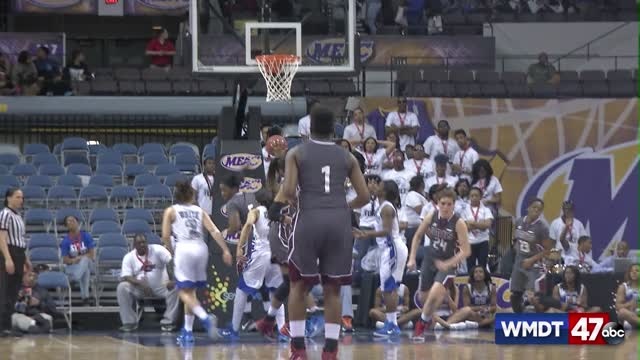 The University of Maryland Eastern Shore women's basketball pulled off one of their biggest wins in program history Wednesday when they took down top seeded Hampton 52-50 off a game winner from Jessica Long. The Hawks now advance to the semifinals where they await their next opponent.
The Pirates would jump out to a quick lead thanks to their speed on the perimeter. They would come up with several steals to get out in the open court where they would score lay ins. Even when UMES managed to get back, they would still find themselves in trouble as Hampton opened the game hot from the outside. But just as the Pirates would open up a double digit lead, UMES would come fighting back. Long would score going to the rack, as Alexis Udoji would go to work on the block. A last second lay in in the first half would cut the Pirates lead to 7 at the half. UMES would come out of the break swinging though.
Senior guard Shawnee Sweeney would connect on 3 long balls as her offense gave the Hawks the spark they needed. They would fight back to tie the game, then even take the lead with under 10 minutes remaining. The teams would begin exchanging baskets, til there was just a couple minutes left. As the Hawks clang to a 4 point lead, the Pirates would drill a 3 ball to get within 1. After a Long free throw, Hampton would connect on a mid range jumper to tie the game with 1:10 remaining. After the Pirates got a stop, they would look for the game winner as time expired, but would travel with just 4.1 seconds left. The Hawks would have the ball sideline out of bounds, as long would get it streaking up the left sideline. She would get a screen from Udoji, find some day light and let it fly, drilling an 18 footer with 1 second left. Time would run out as the Hawks pulled off the biggest upset the tournament has seen in years.