Delmarva Historic Haunts investigates Poplar Hill Mansion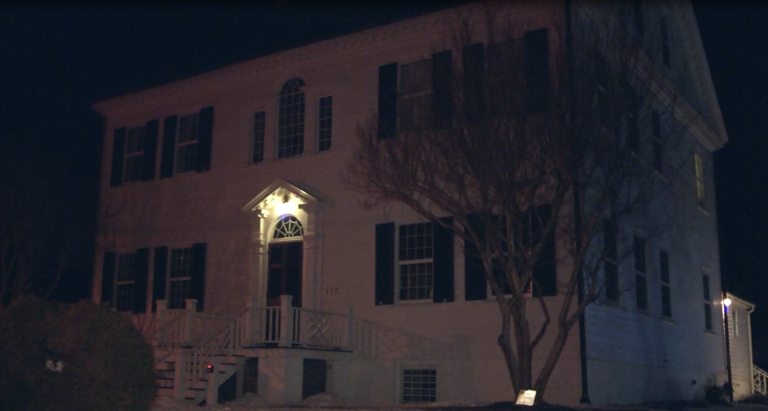 Poplar Hill Mansion is Salisbury's oldest home. It was built in the 1700s. Every room, all the way up to the nursery, and down deep into the dark basement, has a story and eerie happenings.
   
Sarah Meyers, the curator at Poplar Hill Mansion says, "You get used to hearing those weird noises. The things that you can't explain. Seeing things that are kind of out of place."
Meyers lives in the home. She's heard tapping at her bedroom door when no one is in the house.
There have even been reports of giggling throughout the home, a vision of a woman looking out the front window, and a sonic boom from the dining room that hasn't been felt by any of the neighbors.     
 
Aleta Davis, the chair of Poplar Hill Mansion says, "It absolutely shakes the whole house. The front windows jump forward, just like they're loose, but they're tight. They've been paned many times."
These strange phenomenons are what drew Delmarva Historic Haunts to the property for an investigation to identify spirit activity. They were also intrigued by one of the home's tales from the past.
Rick Coherd, the CEO of Delmarva Historic Haunts replies, "The story of the slave girl getting her dress caught on fire."
So how does the investigation work? 47ABC found the answer. The team tours the home to learn it's history, leading them to identify where there may be the most activity.
Then, they set up a series of cameras, wires, devices to pick up electronic voice phenomena, and electro- magnetic fields to identify a possible ghosts.  
Following that, the investigators have to wait for some action.
Wendy Robinson, the co-lead investigator with Delmarva Historic Haunts says, "We want to learn about these people and they obviously still have stories to tell."
Officials with Poplar Hill agree. However, they say they still approach paranormal investigations with skepticism, but they tell us they love to be proven wrong.
For more information regarding tours and visits to Poplar Hill Mansion call 410-749-1776, or click here to visit their website.