UPDATE: Snow fall across Delmarva has officials asking residents to stay safe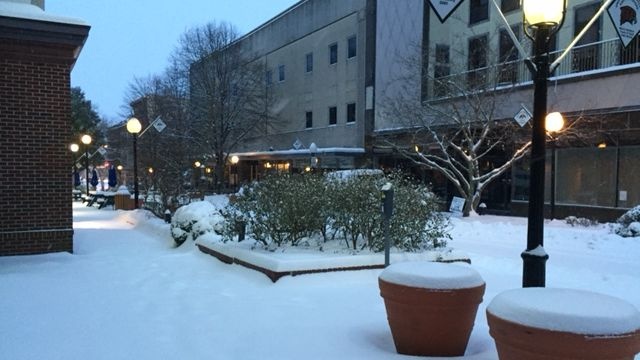 Transportation officials across Delmarva are out working to clear roadways, and asking drivers to stay home, if possible.
In Delaware, DelDOT says they have crews out in force across the state, even with snow still falling. They are reportedly working to keep the state's primary roadways clear, with salt and repeated plowing. Jim Westhoff, DelDOT Community Relations Officer, says the primary roads are passable, but with the storm still going, there is still a thin later of packed snow on the roads. Secondary roads in the state are reportedly still covered.
The State of Delaware Emergency Management Agency says Sussex County was hit the hardest with snow, while New Castle County got off on the lighter side. Government Offices throughout the state were closed, but with many roadways in the state still covered, Officials are asking commuters who have to report to work, to allow extra time, reduce speeds, and use caution while out. The speed limit on the Delaware Memorial Bridge has been dropped to 50 MPH.
Officials in Maryland, with the State Highway Administration is asking drivers to avoid traveling if possible. Clean-up operations are still going on throughout the state, and will continue throughout the day.
"We've been plowing through the night to keep roads passable for emergency vehicles. As snow ends, crews will be able to make progress toward getting lanes down to bare pavement but with the amount of snow that fell statewide and the frigid temperatures, it will take time," said SHA Administrator Melinda B. Peters.  "Because temperatures are in the teens this morning roads may still be slick, so it is imperative that would-be travelers stay home and delay travel to give our crews the time and space they need to safely finish the job today."
The City of Salisbury says the plowing of their emergency routes was nearly finished around 11:00 AM, at which point they will start working on clearing roadways in residential areas. Trash and recycling services in the city will start back up on Wednesday, along with the re-opening of city offices.
In Virginia, State Police say they have responded to more than 2,200 calls for service throughout the state since 4:00 PM Monday. There have reportedly been more than 800 crashes in the state, with mostly only damages vehicles. Two State Troopers have reportedly been hit, after vehicles lost control on slick roadways. One sustained minor injuries on on I-264 in Portsmouth, after a car lost control and hit the Trooper's vehicle. Officials are asking drivers to stay off the roadways, as they remain slick, while VDOT crews continue to work.
Stay tuned to 47 ABC and 47ABC.com for the latest. Our meteorologists are continuing to track the storm, check out the Weather page for details. Closings and delays are continuing to come in, we'll keep them updated on our Closings page.