UPDATE: Waste water treatment plant in Milton destroyed by fire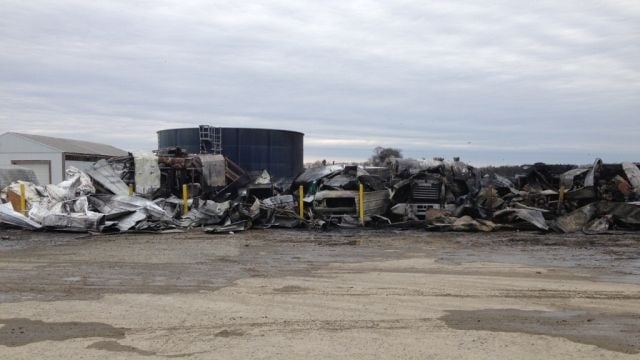 Early Friday, Delaware firefighters worked to extinguish heavy flames at a building on Isaac's Road in Milton.
According to the Delaware State Fire Marshal's Office, reports of a blaze at the Clean Delaware Incorporated Building came in around 6:43 AM.
Fire officials say when crews from Milton, along with Ellendale, Georgetown, Greenwood, Houston, Indian River, Lewes, Slaughter Beach and South Bowers fire companies responded, the 90′ x 60′ waste water treatment facility was fully engulfed in flames. The crews were eventually able to control and extinguish the blaze.
The Milton Fire Department says a 2,000 lb. propane tank behind the facility exploded about five minutes after they were on scene. Officials say luckily, no one was injured in the explosion or fire.
"I had guys right within probably 40 feet within where that tank levied," says J.R. Clark, chief of the Milton Fire Department. "I'm just glad that the tank was sitting there and not the opposite way because if it was, that would have been devastating."
A DNREC emergency responder says there was a release of different types of petroleum products from vehicles, as well as from some storage containers, drums and tanks within the building, but they do not know how much was released.
"I have gone around and done an assessment of the runoff from the fire and it does not appear to be impacting any sensitive environments at his time," says Matthew Higgins, an environmental scientist wit DNREC.
The building, along with 12 vehicles were apparently destroyed in the blaze. Damages are estimated at $750,000.
Details about the cause of the fire is still unknown. Officials say the investigation into the incident is still on-going at this time.